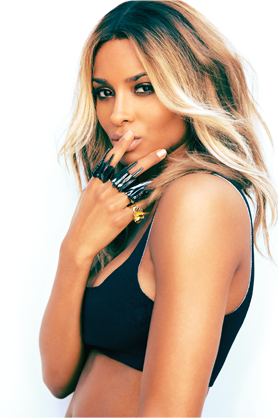 After having a very successful year with her smash single, "Body Party," Ciara has a lot to be celebrating. Announcing her engagement to rapper Future just a few months ago, the singer has now announced that a new album is indeed in the works.
While Beyoncé kept her new album on the hush, Ciara has decided to let fans know that they should be preparing themselves for her upcoming release. Siting down with Genlux Magazine recently, the singer stated, "I'm in the process of making a new album."
With less than a year since her last self-titled LP has been released, we see that she's wasting no time in exploring a more creative side to her talent. Could this be due to her new fiancé? The producer/rapper has been one of the most sought after acts for hit records, and was even a massive help when it came to creating one of the most popular hits of her career, "Body Party". Ciara went on to state:
"My inspiration is life and reality. It's important to express myself musically. I am so connected to who I am now, and I want to share pieces of myself with the world."
For as seasons are in the process of changing for the flawless beauty, an album in 2014 might be the best thing for her to do. Embarking on a new marriage with plans of building a family in the near future, knocking out some good quality music would be a great look for the "I'm Out" songstress. 
Surely one of the most fashionable women in music, choosing to release an album next year would add to the current buzz that she has based on every magazine and red carpet that she's flawlessly graced in 2013.
Here's hoping that this next project will prove to be one of her most creative body of works yet. Good luck, Cici!