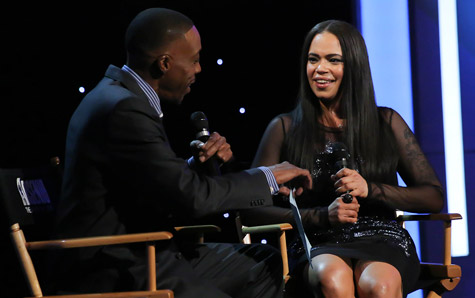 Faith Evans closed out the week with a visit to "The Arsenio Hall Show" to perform "Tears of Joy" off her album R&B Divas, which is nominated for 'Best R&B Album' at the Grammys. Dressed in a black dress, the R&B veteran belted out the emotional single with conviction. During her chat with Arsenio she also opened up about the death of her late husband, the Notorious B.I.G.
Seventeen years after his murder, the case is still unsolved. "We basically stopped spending our money on trying to hope that the LAPD was gonna do their part," said Faith. "It's not closed. It's just a matter of when they really feel like they wanna do the right thing 'cause we in our hearts kinda feel like we know what happened and we believe they know what happened."
Millions of dollars have been spent to provide some resolution for her family, but she has come to terms with the fact that that may never happen.
This year, Faith plans to release her 8th studio album Incomparable featuring contributions from Missy Elliott, Jazmine Sullivan, and Karen Clark-Sheard.
Check out the interview and performance below: