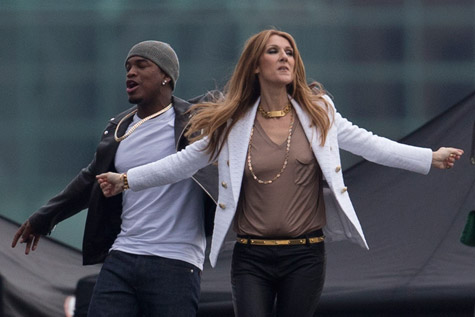 While one of the most "Incredible" new duets has been making headlines recently, the visual to it is sure to be even better. Jumping on camera to bring fans what is a soon-to-be classic video, powerhouse vocalists Celine Dion and R&B star Ne-Yo had Good Morning America on hand to catch a few behind the scenes moments.
Matched in brown, white and black attire with gold accessories, both superstars look very comfortable around each other on an L.A. rooftop. Originally stating that he was hesitant about working with Celine, Ne-Yo told GMA:
"The issue for me, initially, was the whole concept of a duet. You know, it's Celine Dion…and Ne-Yo."
Following up with her side of the story, Celine admitted that her 13-year-old son persuaded her to do the "duet". Telling her, "Thee Ne-Yo?! Mom, you don't even have to listen to the song. You just have to do it."
Found on her album, Loved Me Back to Life, the 45-year-old veteran songstress and the hitmaking singer/songwriter were able to pick up a few things from one another while creating the new song.
Take a look at the behind the scenes of the shoot below: