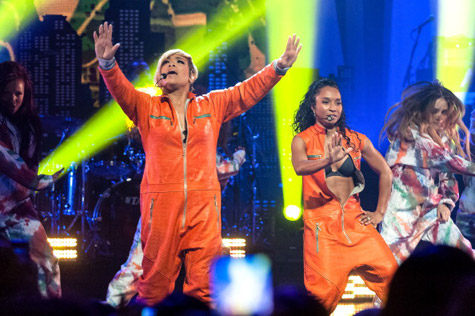 T-Boz and Chilli gave fans a "Red Light Special" last night during Vh1's "Super Bowl Blitz" concert. Shutting down the Beacon Theatre in Manhattan, TLC had fans in an uproar as they performed some of their biggest hits.
Owning the stage for a live hour-long performance, the ladies didn't seem to miss a beat! Looking flawlessly beautiful in each of their outfit choices, the best-selling R&B duo jumped right into their set with their hit "Ain't 2 Proud 2 Beg". Running through their other hits such as "What About Your Friends" and "Diggin' On You," if you were watching from home you were probably standing atop the couches.
Calling on veteran rapper Doug E. Fresh to do a few tracks while they were in between outfit changes, the girls gave a real life show. Even stepping into the new Atlanta dance sensation known as the "Nae Nae," the ladies held it down like they were still in the '90s. Signing along to every note, fans got to experience the group perform "Red Light Special," "Creep," "No Scrubs" and more.
Closing out the night with a joint performance of "Meant To Be" with The Boys Choir of Harlem and ballet dancer, Misty Copeland, TLC made it clear why they are one of the most respected females groups of all time.
Check out clips of the performance below: