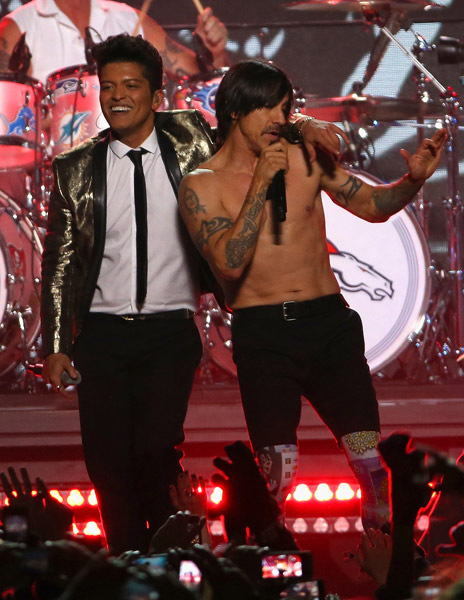 Well then! If you weren't a fan of Bruno Mars before, you can bet all of your coins that you are now! Putting on one of the best performances we've seen in many years, Bruno showed everyone just why he was chosen to perform this year.
Following Beyoncé's intense performance with special guests Destiny's Child last year, many wondered why Bruno was chosen so early in his career to do this years Halftime show. Well, sorry to say, but we have to ask Beyoncé and Janet to step to the side because Mr. Mars is reigning supreme right now!
Dressed in a shiny gold Saint Laurent blazer and skinny black tie, the "Treasure" singer and his eight-piece band The Hooligans, put on an exceptional 13-minute performance for all to see. Beginning his set with the hit, "Locked Out Of Heaven," and following up with the jive worthy track, "Treasure," Bruno showed the world why he has so many sold-out concerts around the globe.
Not stopping there, the crooner brought out one of our favorite bands – The Red Hot Chili Peppers. Performing one of their biggest hits, "Give It Away," the entire crowd was jumping in unison with the men on stage. Sporting their signature bare chests, it was an awesome sight to see them back on stage giving us pieces of the '90s back.
Undoubtedly one of the best Halftime performances to hit the Super Bowl stage, we're interested in seeing just who's going to be able to top it next year.
Until then, catch last night's performance after the jump!