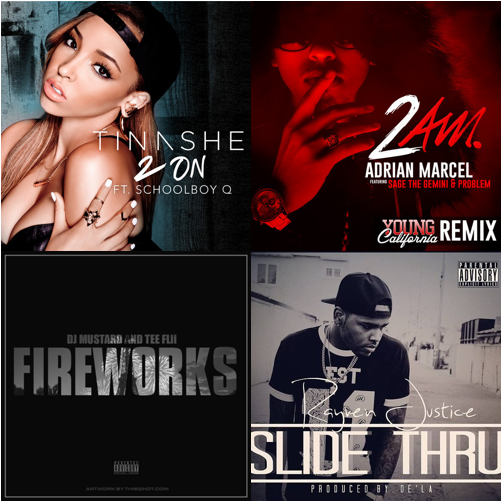 For a year or so now, we've been having in-house discussions about a certain sound that has been rising out of the California music scene, and like any emerging style becoming increasingly more popular in the clubs, mixshows and mainstream radio. Unlike Hip-Hop and Rap, R&B tends to be much more set in its ways, and stubborn to new sounds and production styles, but every once in a while a certain city, region or single producer can create a trend on their records, and lead the genre in a new way.
We've heard this happening much more now, coming from the West Coast, and specifically from DJ Mustard and the popularity of how his production leads a song melodically. The 23-year-old DJ/Producer and recent Roc Nation signee has been stepping out of Hip-Hop and leading what could be turning into an entire new sound of R&B for the clubs. With this thought we had to reach out to our friend and fellow R&B connoisseur DJ Carisma, of L.A.'s Power 106, to get her thought on this sound, which she has personally coined "RnBSlaps."
Yo DJ Carisma here repping Power 106 Los Angeles and Young California. I'm here to put y'all up on what we call a #RnBSlap or #RnBSlapper out here in the west.

A #RnBSlap is a smooth R&B joint over a banger, a slapper, a super turnt up instrumental. The sound is coming from some of our favorite west coast producers right now, like DJ Mustard, League of Starz, HBK Gang, Ravsmoov, and Nic Nac just to name a few who have mastered the sound of the #RnBSlap.
Well, to explain it better, why don't you check out the playlist that DJ Carisma has put together below, and let us know what you think about this emerging sound, the term "RnBSlap" and if you think it's turning into a new style or sub-genre of R&B???
Thoughts??