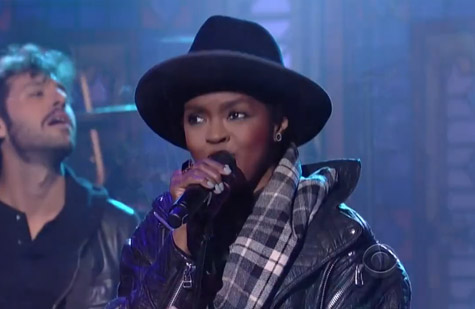 With the 50th Anniversary of The Beatles' first U.S. performance right around the corner, many stars are jumping in on the fun. Paying homage to the music legends this time is everyone's favorite, Lauryn Hill.
Stopping by the Late Show with Dave Letterman, the rare appearance saw the star perform the Fab Four's classic hit, "Something," off of their Abbey Road album. Showing up in a black hat, plaid dress and a motorcycle jacket, the Grammy-winning artist closed out the week long tribute. Done in the same theatre that the men graced for their first appearance back in 1964, Lauryn and her band did justice to the cover.
Coming right before this weekend's star studded post Grammy event, "The Beatles: The Night That Changed America – A GRAMMY Salute," it's refreshing to see Lauryn jump on stage for a televised performance.
Take a look as she wow's below: