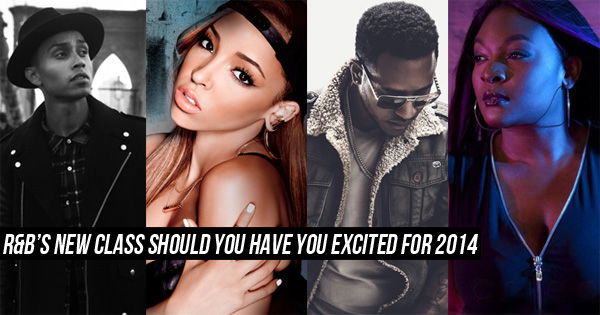 We are only a month in to 2014, and we are already excited for what's to come! Last year was a very strong, some might even say tremendous year, for R&B music. From the authentic reaching mainstream level and the top of the charts, to excellent indie releases, plenty of progressive sounds, and lots of sexy tracks for the clubs and bedrooms, we had every niche, sub-genre and taste covered.
After such a strong 2013, we can only hope to build on the momentum, and reach even higher with the voices and talent of the large crop of artists working on projects for this year. While there are plenty of big names who are planning to release albums in the coming months, including Chris Brown, Jennifer Hudson, Mariah Carey, Miguel, Monica and more; we are currently thrilled with the level of talent and artistry coming from R&B's young class.
Many of these artists have already released mixtapes or EP's, and some only a few songs, but all are continuing to build their buzz and work on their official debut album. These acts hail from different places, with different takes, styles and twists on their music, but each of them need to be on your radar, and most likely on your playlists!
Check out the tracks below and get excited!

*in no particular order*
Elijah Blake – Tokyo
Elijah built up a fan base following his 2012 EP 'Bijoux 22,' with many patiently waiting for him to release more music last year, he waited to the very end to drop this polarizing vocal performance, which made us all stand up and clap. We will continue to patiently wait if he has more tracks like this in store…
Sebastian Mikael – Forever
Sebastian Mikael caught mainstream attention with his '90s styled single "Last Night" featuring Wale last year, but he went all the way grown-and-sexy with his early January release of "Forever." This track right here screams Urban AC radio, but with Sebastian's youth appeal we cross our fingers that he can cross over too. This joint goes!
Tinashe – 2 On
Tinashe had us singing her praises following the release of her late 2013 mixtape Black Water, but then she really made us spin around when she dropped "2 On." Fitting right in with the emerging Cali sound, this joint is the perfect blend of sexy, club, and chill. Tinashe is on with this one!
Adrian Marcel – 2 AM
Adrian already had many fans anticipating the release of his forthcoming sophomore mixtape 'The Weak After Next,' but then he surprised us with this drop, showing he won't only be singing about heartbreak. "2 AM" also exemplifies the progressive Cali sound, with it's super simple, synthy snap track, and laid back party vibe.
Sevyn Streeter – B.A.N.S.
Sevyn isn't exactly a new name anymore. She already landed a No. 1 with her debut single "It Won't Stop" last year, and released the acclaimed EP 'Call Me Crazy, But…' However, Sevyn is leading the pack of today's new R&B class, and has fans everywhere highly anticipating her debut album. Being an extremely talented songwriter herself, Sevyn is a dangerous force right now. "B.A.N.S." was a fan favorite and ours too!
See More on Page 2…