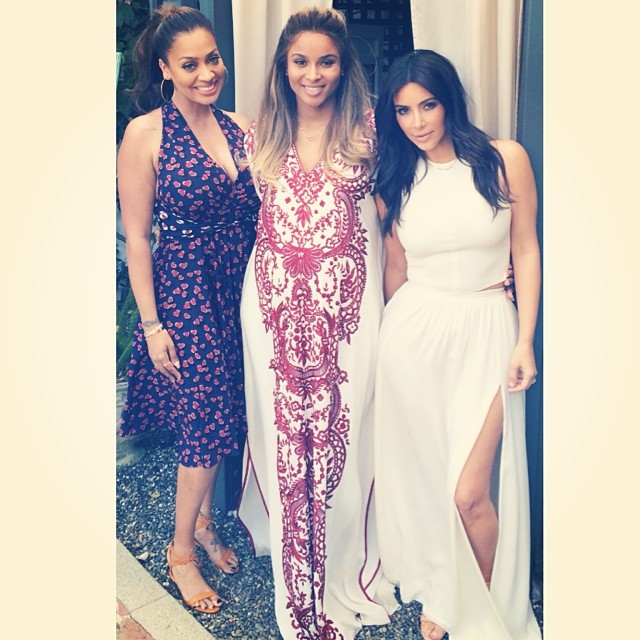 Ciara was surrounded by her closest friends and family as she celebrated the upcoming arrival of her first child. Hosted by her BFFs La La Anthony, Lisa Ellis, and Yolonda Frederick, the intimate baby shower was held at the home of producer Danny Rose and lawyer Aaron Rosenberg in Beverly Hills on Saturday.
The mom-to-be was glowing in a Naeem Khan white-and-red caftan as she posed for pics with La La and Kim Kardashian. Kim's mother Kris Jenner, Ciara's mother, and Future's mama were all smiles as they joined CiCi on her special day.
It looks like the rumors are true and the couple are expecting a baby boy. There was a blue cake and the baby even received his first pair of Jordan Melos, given by Carmelo Anthony.
"CKL:). It's So Cool 2 Look At Our Pics Over The Years and Reflect On Our Journeys As Women! The Journeys Have Been Great!! Nothing Like Hanging 2Gether on The Days That Count The Most. Friends For Life. Love You @LaLa. @kimkardashian. XXX!!," Ciara said.
La La added, "The perfect day surrounded by love as we celebrate a blessing coming into this world. @ciara is glowing!!! Makes me and @kimkardashian so happy to welcome her into the mommy club! I love u."
See more pics from the baby shower below: