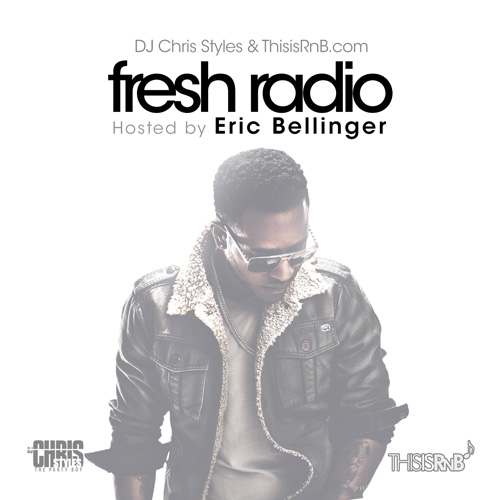 Spring is just around the corner, so to kick off the month of March we have a special new mixtape for you! Teaming up with DJ Chris Styles of Sirius XM's 'The Heat,' we bring you 'Fresh Radio' hosted by Eric Bellinger.
This 60 minute live mix features some of the hottest R&B singles climbing the charts and rockin the clubs right now, from the likes of Trey Songz, Sevyn Streeter, Elijah Blake, August Alsina and more, along with interlude breaks from Eric Bellinger, who recently released his debut album The Rebirth.
Follow the jump to stream and download now!!
Tracklisting:
01. Eric Bellinger Intro
02. Chris Brown feat. Lil Wayne & French Montana – Loyal
03. Trey Songz – NaNa
04. Tinashe feat. Schoolboy Q – 2 On
05. Kid Ink feat. Chris Brown & Trey Songz – Show Me (Remix)
06. Eric Bellinger Interlude
07. Eric Bellinger feat. Problem – I Don't Want Her
08. Ne-Yo – New Love
09. Anthony Lewis feat. Billy Bang – Candy Rain
10. Elijah Blake feat. Rick Ross & The Game – Sing For Me
11. Eric Bellinger Interlude 2
12. Omarion – I Like It
13. The Weeknd – Drunk In Love (Remix)
14. August Alsina feat. Young Jeezy – Make It Home
15. Bando Jonez – Sex You
16. Eric Bellinger Interlude 3
17. Ty Dolla $ign feat. Wiz Khalifa – Or Nah
18. Jazmin Sisters – You
19. Rico Love – Be Like
20. Sevyn Streeter – Next
21. Eric Bellinger Interlude 4
22. Eric Bellinger feat. Sevyn Streeter – Catch 22
23. Danity Kane – Bye Baby
24. Maxine Ashley – Perpetual Nights
25. Kesington Kross – Gimme Your Love
26. Adrian Marcel feat. Sage The Gemini & Problem – 2 AM (Remix)
27. Eric Bellinger Outro
You can also listen to the mix on your phone by downloading the DJ Chris Styles app from the app store.
Enjoy!!