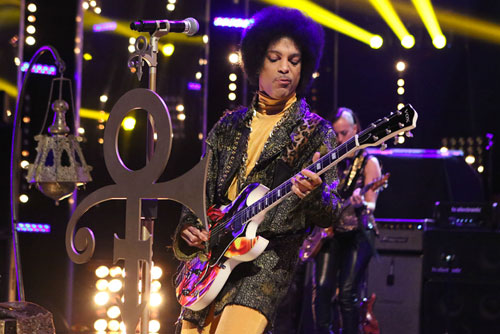 It was a magical moment for Prince fans everywhere on Wednesday night, as the music icon made a very rare late night TV appearance, when he took over the Arsenio Hall Show! The often private legend has been returning to the spotlight lately, and touring the world with his new all female band 3rdEyeGirl.
Kicking off his takeover Prince and the ladies performed their new song "FUNKNROLL" for the first time on television. They then lit up the stage with their performance of "She's Always In My Hair," and to close out the show Prince and The New Power Generation delivered a massive performance of "Mutiny."
In addition to his amazing performances, the Purple One sat down with Arsenio for a full interview where he spoke about his biggest pet peeve (people touching his hair), what household chore he does that might surprise fans, his favorite song, when was the last time he watched 'Purple Rain,' does he watch any of the singing competition shows, what he would do if he wasn't a musician and more!
Watch all the special moments below!