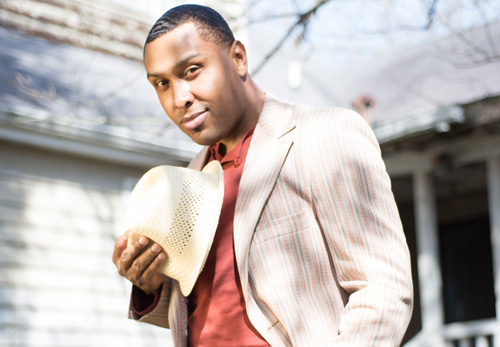 Soulful singer Noel Gourdin has a voice of gold.  First receiving national acclaim with his 2008 single "The River," the Boston native garnered much success and became known as a breakout star amongst many of the industry's elite.
Now, 6 years later the crooner is still on the path of bringing back real feeling to R&B. Releasing his latest album, City Heart, Southern Soul, Noel has been grabbing the attention of the masses all over again. Taking some time to speak with ThisisRnB about his new album and career, the "Can't Wait" singer told us just what he's been up to when it comes to his current stance in the industry. Focusing on the process of the new album, his classic sound, the current state of R&B and much more, this interview should give you further insight or possibly help introduce you to Noel's underrated talent.
Jump into our exclusive interview below:

You have one of the best classic Rhythm and Blues and Soul albums of a last few years.  Tell us about the process of writing and recording these songs and this LP?
I really and certainly appreciate that. It means a lot. The process started just over 2 years ago. I sat down with a producer named Marcela Dawson that's out of Atlanta and I just started talking about the direction I wanted to go in. It's pretty much paying homage to all of the greats of the past. The people that inspired me to get in to making music and the people that inspired me to make music with respect and integrity. All of those artists who I listened to and was hanging out with my pops – the Al Green's, Sam Cooke's, Marvin Gaye's, Otis Redding's…all of those artists. I just wanted to make music from my heart and soul, but also from the places I grew up in. I was born and raised in Brockton, Massachusetts – which is 25 miles south of Boston. When I wasn't hanging out with my Pops, I was hanging out with my brother and that's where the influence came from with the Hip-Hop and the New Jack Swing R&B and all of that stuff. But, the foundation was most certainly with my Pops and the soul music that we spoke about. With me being from the north and my parents being born and raised in Mississippi, we used to travel to Mississippi every year and I would stay down there for extended summers with my grandmama and great aunts and uncles. So, that soul music became synonymous with the south for me and of course, that Hip-Hop and New Jack Swing R&B became synonymous with the north and the east coast. I pretty much just came up with city to the heart and southern to the soul. I always just felt like a southern fella wrapped in city skin. It just seemed fitting me making an album and paying homage to all the greats of the past, and all of my inspirations and influences to name it City Heart, Southern Soul. It's almost my motto in a way, you know?
Yeah, definitely. You've stayed very true to your influences with your music, are you consciously trying to keep that sound around, or do you feel you are just an old soul who was meant to keep it classic?
I would say that. If I had a nickel for every time someone said I had an old soul, I would be a lot better off than I am now [laughs]. I mean, it's just in me now. It started when I started listening to my Pops music that he used to play and all of his greats and favorites. It's in me now. I can't help it. It exudes out of me and it's just what I love to make. I call it retro-relevancy. I always try to make music that has the fell and the authenticity and that genuine feel of the old soul music, but still have it today where it could be relatable to the younger folks. But, let's get this straight: I'm not making music for the younger folk. I'm just making music and it just so happens that it seems like today's younger crowd and those that love the "neo-soul" that they're able to relate to it as well. It's just what I do – I love making this music.
While we're on that subject, you know love songs seem to be the furthest thing from mainstream radio nowadays. You can have an "R&B" artist, but they're not really speaking about love as did past artists. Do you think it will ever come back, or are we too far gone into sexual and ratchet culture? 
Honestly, I don't see an end to it right now. There will always be artists that are speaking of it, but will these artists get the light of day? Will they get the promotion and the covers that they deserve? It hasn't been that way for a long time. What's crazy is people say that soul music and all of this is gone and lost and all of that, but I say it's not. It's been here, but the support for it is lost and gone. It just seems like there's nobody really trying to look out for this music and support this music and it's disheartening. This music is around and will be around for all of my days – I know that. There's a reason why this music came out in the '50s, '60s and '70s and they still have infomercials about it today. I don't see this popular music today being televised on infomercials for 2 1/2 hours 20 years from now. It's a special genre of music and they are most certainly trying to get it out of here. There are artists out here who are trying to keep it alive who aren't named a lot. You know, the Anthony Hamilton's, Eric Benet, Joe…D'Angelo didn't get it the way he should have. We need them back. It's artists like this who have been doing it for years and it's sad that it's just not getting what's due. I don't know…I just don't see an end it in. We have to just keep making music from the heart and soul and the people that want to listen to it will hopefully spread the word [laughs]. I'm just trying to go against the grain a little bit. I want to put out albums that people actually feel comfortable with laying their money down. It's crazy that people are putting out albums where only one or two cuts on them are quality and that's something that I"m trying to do that's different. I'm trying to go against the grain and make a whole album with quality records. So, that's the mission and that's what we've been trying to do.
So, speaking of the album, can you tell us some of your favorites off of it? 
Wow – I could say all of them [laughs]. We had to boil down to 10 of 25 or so. We have a whole 'nother album that's in the crates just waiting. It's in the can waiting to come out. We picked these records because they were cohesive and I really feel like they just got my point across and what I was trying to do with this title. These records encompassed what I was really trying to do with this album. If you want to get down to it, "Heaven Knows" because of the subject and content matter. "Patience" is a special one to me because it's got that throwback feel. "No Worries" I love because it's different for me. It has that Frankie Beverly & Maze, Michael Jackson feel for me and it's uptempo. It's just a feel good record and it's talking about the subject matter that a lot of people can identify with. "Can't Wait" featuring the lovely Avery Sunshine – I love that record. The chemistry that we had on that is incredible. And, "I Want You Regardless," the record that's number 10 on the album because of the subject matter. You know, loving someone that's had a promiscuous past and being able to overcome that and change and for somebody to love them undeniably and fiercely even though their past has come back to haunt them. Love prevails.
What do you feel as if the next single will be?
Well it seems like everybody's been gravitating towards the record "Can't Wait" with Avery Sunshine. There's no surprise. The feel is great as are the chemistry and the subject matter and such.
You seem to be able to express the emotions of love and different dimensions of relationships really well with your voice, are you currently in a relationship that you pull from now, and how emotional do you get when writing and recording?
I am in a relationship. I appreciate you saying that I'm able to talk about it in a way that grabs people. That was one thing that I really did before I jumped into the industry. I was listening and studying these great artists of the past. Just listening to how they spoke and how they wrote and how they conveyed and used their voice to really make people feel it. I know they made me feel that way. I did a lot of studying and just listening and paying attention to how they came up with the writing and melodies and such. I wanted to do that when I was able to make music. I do pull from almost all personal instances in my life and from people around me. I'm very close to my family and I pull inspiration from everywhere as far as writing. I just try to put down stories and concepts that people live every day, on a day to day in relationships and just life. I always pull from my auntie – my late auntie Mary. She used to say, "Make sure that people can understand you. If we can understand you, the tone of your voice will make them feel it." So, right before I walk into the booth every time, I can always hear, "Make sure that we can understand you." It's crazy that it rings in my head still every time I walk into the booth. It's not like the rest of my family didn't tell me things, but it was something that my aunt pulled me to the side and said, that always rings in my head. I'll do a few takes and even if it's not perfect pitch wise or something like that, but the feel was there, that's the one I'm gonna go with. It always comes back to the feel.
When you first came onto the scene you found great success with your single "The River," how have you found it's been navigating the music industry since??
It's been incredible. People still thank me for that record. It's crazy because it was something that we were all just sitting down in the studio and started talking about it. Either we were from south and family in the south that we visited quite frequently growing up. So, we all just started talking about times that we had while growing up and we all just started writing. There were some crazy things that we were saying as far as what the south was back in the day. There were some real raw things that we were saying, but we had to cut them out [laughs]. There were a lot of crazy things that we said on the editing room floor, but the way it came out, it was incredible. We wrote it and recorded it within 3-4 hours. It was special. I came out of the booth and I knew we had something that was relatable and timeless. It's very nostalgic. A lot of people – like I said – still thank me 'til this day for doing that record and I'm glad that I was able to contribute a record like that to the industry. I'll be able to sing that from now until I'm 65-70, so it's definitely a blessing.
If you had the opportunity to pen or call a record your own, what song would it be and why?
Wow…let me see. Geez, there's a couple of them. It would have to be "Inner City Blues" by Marvin Gaye and "Change Is Gone Come" by Sam Cooke. It just seemed like those guys were at the pinnacle of their work at that particular time. They couldn't have got no higher. It was them being so comfortable with the artists that they were and that's where the special work comes from. That's where the records that will define you as an artist come out. Those records were just incredible. It spoke about their character and their drive and their passion as artists. Not just as artists, but as men in the times they were growing up in. So, it would have to be either one of those records – I can't leave either one of those out [laughs].
If you could give any advice to someone looking to get into the industry, what would you tell them?
I would tell them to be true to the artist that's within. Don't make music just because you can and try to jump on that conveyer belt because people are going to be able to tell if it's not coming from your heart. You have to record and put your music down and perform with conviction. If you're not doing that, these people who are listening are trained. Their ears are trained. With all these shows coming out with singing platforms, people are really trained these days. You have to really be true to the artist that's within. Have a great team around you – a team that believes in you as much as you do. I know that's hard to find, but it can be found. Just be true to you and do what you say you're going to do. Remain humble. Be that person. Always think back to when you were in the struggle and trying to get to the place that you wanted to be. If you eventually get there, remain that person because what goes up, must come down. This is a really, really small industry. The degree of separation is miniscule. Just be the best person that you can and the artist will take care of itself.
Very true. What can fans expect next from you?
Well, I'm gonna continue to make music – quality music – and I have something in the pipeline that I'm working on. A feature project. It's gonna be half with women and half with the fellas so, I'm really excited about that. I'm looking to expand into different facets of the entertainment industry. I'm reading a couple of screenplays right now so I'm really excited about that. I'm just trying to expand into other facets and be the best person that I can, but at the same time exercise my artistry. We have spot [tour] dates that are lined up. The calendar is filling up quite fast, but I am looking to be on some type of tour soon. We're looking into maybe getting out and doing a tour and trying that out to see how that happens to go. So I'm waiting on the word from the label, but in the meanwhile, I have a few spot dates coming up. People will be able to check those out on my website noelgourdin.com. So, yeah…keep your ear to the ground and I won't let you down.
-Interview by Ni'Kesia Pannell