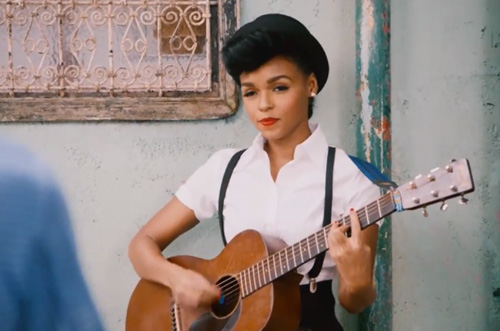 Janelle Monáe already brought her talents to Brazil for "What Is Love," the lead single off the soundtrack to the upcoming movie Rio 2. Now, the electric performer travels to Rio de Janiero as the featured artist of Pepsi's global 2014 futbol campaign "Now Is What You Make It."
Monáe stars in a new commerical debuting in 100 countries today, performing on the streets of Rio singing her new Brazilian-inflected cover of David Bowie's "Heroes," which is also available on iTunes worldwide today. The commercial features appearances from Pepsi's all-star soccer lineup, including Robin van Persie, David Lutz, Sergio Ramos, Sergio Aguero, Jack Wilshire and four-time player of the year Leo Messi.
"It was really cool," Monae told Billboard of the star-studded shoot. "I admire all the players and soccer and just sports in general. The teamwork those players experience is very similar to how I have my own business, my recording label, my band and how we're a team and when we have great shows at places like South by Southwest we can all just share in that moment and remember it for the rest of our lives. I was just excited to be amongst other people who can understand what that feels like."
"Bowie is part of my musical DNA in so many ways," Monae told Rolling Stone. "And 'Heroes' is one of my favorite Bowie songs. When you love your favorite song, you want to keep some of the beautiful qualities of the original, but we brought Atlanta in the drums and wanted them to be thick and hit hard. It's like us reimagining it. I thought, 'If this song was in my dream, how would it get from our dream to my reality?'"
Check out the commercial and Janelle's version of "Heroes" below!