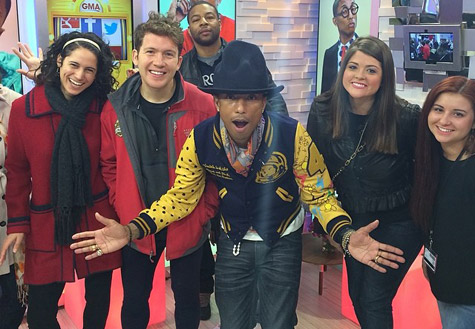 Following his birthday performance on "Saturday Night Live," Pharrell helped kicked off the week with a visit to "Good Morning America."
Dressed in a BBC varsity jacket, Vivienne Westwood hat, and Swarovski-studded adidas Stan Smiths, the 41-year-old superstar helped liven up New York City by performing his infectious hit "Happy" atop a building in the middle of Times Square.
He also warmed up the studio with "Marilyn Monroe" and "Come Get It Bae" off his latest album G I R L, which is No. 5 on the Billboard 200 this week.
Plus, he took questions from viewers, revealing what makes him happy and what inspires him.
"I'm just very appreciative," said the humble hitmaker. "I get to do what I love every day."
Check out all the performances below!
>
[RU]