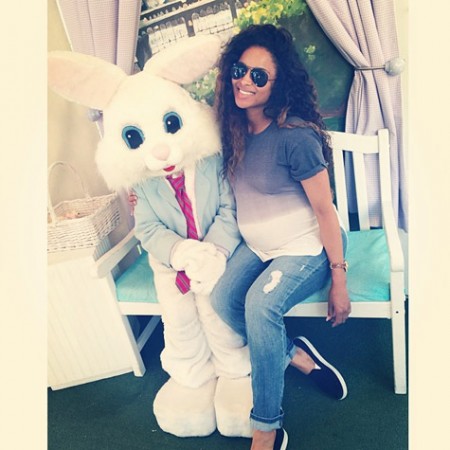 All of the stars aligned with their families this past weekend to take in some of the Easter Day fun. From posing with bunnies to having their own sets of bunny ears, anyone who was anyone was out enjoying the time with their loved ones.
Spotted posing with a two-piece suit wearing Easter Bunny, singer and soon-to-be mommy Ciara was all smiles as she gave her baby bump some Easter love. Although her fiancé Future was out promoting his new album, his future wife was holding it down on Mommy duty.
Also getting in on the fun, The Carters let the world have a peek in on their day as well. Taking some time to spend with little Blue after their Coachella set, Beyoncé and Hov chilled poolside and even got in on a little egg hunt fun.
Doing it a little less subtle, Alicia Keyz and Swizzy decided to rent a yacht for their family and hit the sea. Mariah Carey and Nick Cannon – not to be overshadowed of course – had an extravagant day planned for #DemBabies as they painted Easter eggs and filled their rooftop deck with presents galore before receiving an at home visit from the Easter Bunny himself.
Taking advantage of the time meant for their loved ones, you can't help but love seeing the stars in their most vulnerable moments.
Take a look at some of the shots from celebrities and their families below: