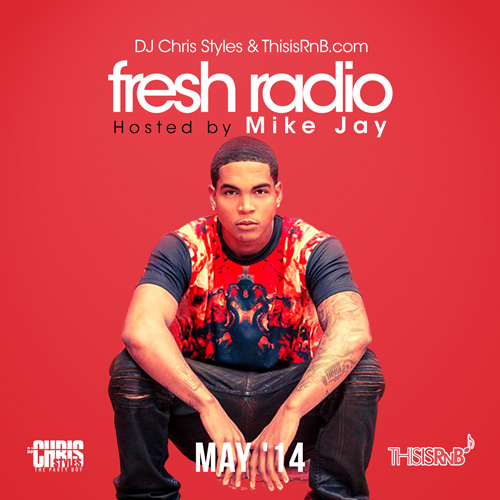 Spring is definitely here now! To kick off the month of May we bring you our brand new 'Fresh Radio' mixtape with DJ Chris Styles of Sirius XM's 'The Heat,' and hosted by rising singer/songwriter Mike Jay.
The 60 minute live mix features some of the hottest R&B singles climbing the charts and rockin the clubs right now, from the likes of Usher, August Alsina, Pharrell and more, along with interlude breaks from Mike, who released his debut self-titled EP earlier this year, and is starting to promote his brand new single "Birthday Suit."
Follow the jump to stream and download the mix now!!
#FreshRadio
Tracklisting:
01. Mike Jay Intro
02. Mike Jay feat. YG – For A Week
03. Usher – Good Kisser
04. Ariana Grande feat. Iggy Azalea – Problem
05. Mike Jay Break
06. Chris Brown feat. Mila J & Lil Wayne – Loyal (Remix)
07. Derek King feat. IamSu – What It Do
08. Super Jay – Gin & Juice (Chris Styles Remix)
09. MNEK – Every Little Word
10. Mike Jay Break
11. Mike Jay – BFF
12. Super Jay – Yo Body
13. August Alsina feat. Fabolous – Get Ya Money
14. Mike Jay Break
15. Bando Jonez – Sex You
16. Mapei feat. Chance The Rapper – Don't Wait
17. Nathaniel feat. Chinx Drugz & Troy Ave – My Lady (Remix)
18. Verse Simmonds feat. Kid Ink & Eric Bellinger – Sexy Body
19. Mike Jay Break
20. Mike Jay – Real Strippers
21. Mike Jay – Birthday Suit
22. Lyrica Anderson feat. Kevin Gates – Feenin
23. Vanessa Elisha – Midnight Swim
24. Michael Jackson feat. Timberlake – Love Never Felt So Good
25. Pharrell – Marilyn Monroe
26. Jason Derulo feat. Snoop – Wiggle
27. Jazmin Sisters feat. IamSu – You (Remix)
28. Mike Jay Break
29. Mike Jay – Perfect Weather
30. Tory Lanez – R.I.D.E
31. Mike Jay Outro
DL: DJ Chris Styles & ThisisRnB.com – Fresh Radio (May '14) (Hosted by Mike Jay)