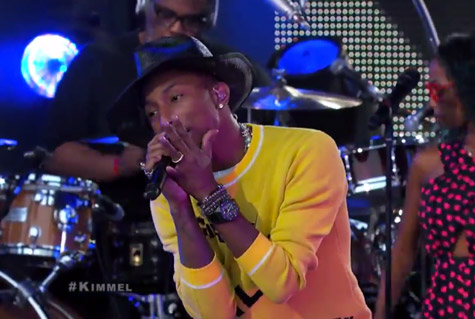 Pharrell hit the stage of Jimmy Kimmel Live! for the second night in a row! Following his awesome performance of his single, "Come Get It Bae," Jimmy and the fans just couldn't get enough of the mastermind.
Calling him back for an encore performance, the all-around guy hit the stage this time to perform his new tracks "Marilyn Monroe" and "Hunter". Lifted from his album G I R L, the singles were performed with Skateboard P's typical laid back mood. Strutting the stage in his new adidas hat and a yellow "G I R L S!" embroidered sweater, it's always a pleasure to see him do his thing on the stage.
Additionally he treated the audience to his 2013 Daft Punk assisted smash "Get Lucky," and the audience were clearly the lucky ones.
Take a look at the clips after the jump!