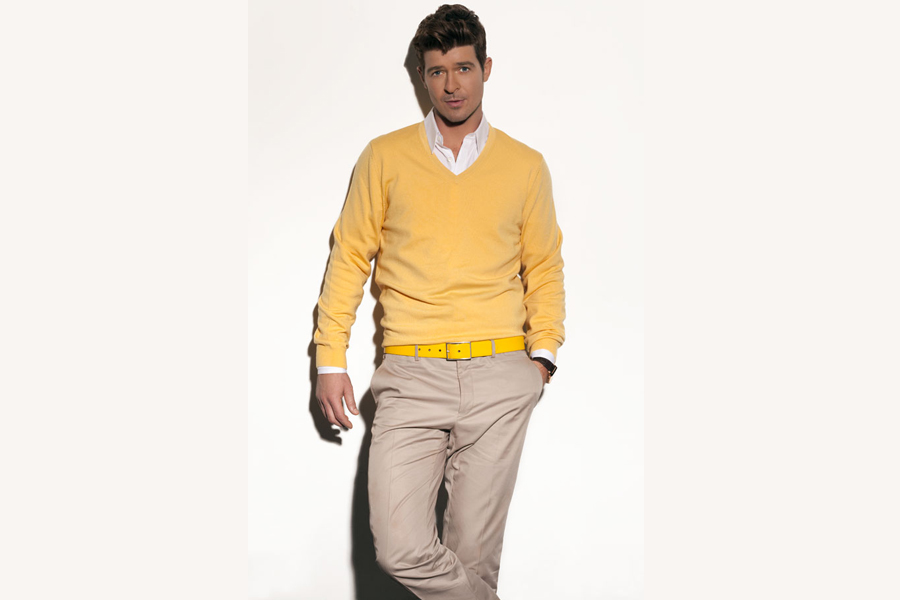 Robin Thicke is striking while the iron is hot!  The R&B lothario will be following up 2013's gold-selling album Blurred Lines, and the record-breaking single of the same name, with a brand new album, this summer!
After debuting his brand new single "Get Her Back" at the Billboard Music Awards on Sunday night and performing the song again on the season finale of 'The Voice' on Tuesday, Thicke has announced his seventh studio album will be dropping July 1 via Star Trak/Interscope Records.
The album is said have been written and produced entirely by Thicke himself, but we assume his longtime production partner Pro-J has been apart of the music as well.
At the 2014 Billboard Music Awards he took home four awards, "Top Hot 100 Song," "Top Digital Song," "Top Radio Song," and "Top R&B Song" for "Blurred Lines" featuring T.I. and Pharrell.
Blurred Lines the album debuted at No. 1 on the Billboard Top 200 chart, while the single climbed to No. 1 in over 100 countries and spent 12 weeks atop the Billboard Hot 100. It also broke radio records by climbing to No. 1 on five charts simultaneously (Top 40, Rhythm, Urban, Hot AC & Urban AC) — the first time an artist has ever accomplished this.
This is very interesting news as Thicke has been campaigning nationally and during his shows to rekindle his marriage to his wife Paula Patton, who announced their separation this past February.