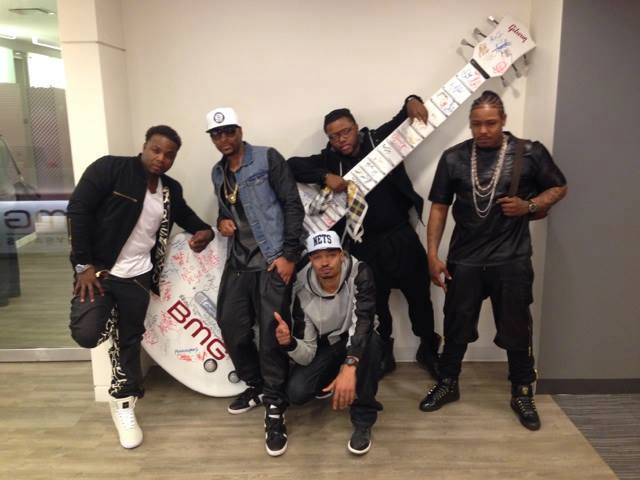 In the '90s, R&B was in its prime. With groups such as Jodeci, Silk, and Boyz II Men supplying us with quality, authentic music, it's easy to remember just why we have become obsessed with the sounds of that time. Unfortunately though, more than 20 years have passed and we still haven't been able to replicate the same feeling from music that we got back then.
That was, however, until we met the men of Day 26. Formed in 2007 by Sean "Diddy" Combs via his Making the Band series,  Rob, Willie, Brian, Que and Mike erupted onto the scene with their big personalities and even bigger voices. Delivering two classic albums that hosted a number of tracks such as "So Good" and "Since You've Been Gone," we watched wide eyed as the five talented members shot to stardom.While the years have brought them much fame to celebrate from, the group hit a few snags as well. From losing Que, to an all out disbandment, R&B almost lost one of its most talented contemporary acts.
Now, two years after their official disbandment, the lovable group is back and ready to do it right. Packed with all five original members, Que, Willie, Rob, Mike and Brian are wasting no time singing their way back into our hearts. Returning with the new single, "Bullsh*t" and Silk cover song "Lose Control," Day 26 has returned from their hiatus to give us what we've been missing…the true essence of R&B.
While prepping for the release of their upcoming EP The Return, ThisIsRnB.com got the chance to chop it up with the fellas and discuss plans for new music, the EP, reuniting as a band and much more.
Check out the exclusive interview below!
How has the relationship been between each of you since you've reunited?
Willie: It's been great. You know, I think the chemistry never really fell off. I think the biggest thing for Day 26 is that we were all picked from different states and different cities. So, it's like you know, through the process of us recording and everything it was easier for us to get around each other. When that started to become a problem, then that's when the group ended up taking it's wave, but us being back together has been refreshing. We've never been enemies at all – we've always had a brotherly bond. From the first record we've recorded, it's been nothing but that same chemistry. So, we're back – we're ready.
Your last single, "Made Love Lately," was a great song, but unfortunately it didn't retain the attention that it deserved. How do you anticipate keeping fans interested in the new single and the new sound you have coming out?
Mike: Well the reason why it didn't give us that is because we had some things come up between us and the promotion for it just stopped. But we really liked the song. It did pretty good.
Now that there are all five original members of the group back, do you guys feel as if you have a better chance of regaining and retaining the attention of the original fans from when you started out?
Rob: I definitely think we do have a better chance because even though we have our individual fans…you know, Que's fan base is a good percentage of our fan base as well, so definitely to regain Que's fans back and individually just bring them all back together, it can't help but to be bigger. With the music that we're doing now and the new sound that we're trying to bring to y'all, it's definitely gonna grab new fans that didn't know who Day 26 was before this.
The new single, "Bullsh*t" has been out for a little while. How do you guys think it's doing?
Willie: I think it's doing rather good seeing that right now it's just a viral thing. It hasn't even went to radio and things like that yet. It can only grow from there. Right now, I think it's doing really good.
Do you think that it was the right single to choose as your comeback and is it the official single?
Rob: It is the official single for the EP right now and I definitely think it was a good choice because the content is more of what's going on right now. We tried to cater a little bit to right now and radio right now. We definitely have a lot more to bring to the table, but we do think we made a good choice in picking the single that we picked. At least to get everybody's ears back and it's a good setup for the follow-up that we have coming as well.
Your relationship with Danity Kane has been one that we've witnessed grow throughout the years. Was their comeback one of the reasons that pushed you guys to move forward with yours? 
Willie: Day 26 was officially back together when Danity Kane said they were gonna do their thing. We were already in talks way before by the time they announced it, but we just hadn't made an announcement yet because we were trying to figure out what we were gonna do. Were we gonna tour first? Were we gonna make an album first? Were we gonna go for a deal first? We were just in limbo not knowing exactly what we were gonna do first, but we were officially a group already.
Speaking of a tour…when is the tour gonna pop off? I'm ready to get my ticket and I hope you guys have Atlanta on the bill because I'm ready.
Willie: Oh, Atlanta's definitely gonna be on the bill! We don't have the dates as of now. The reason we had to pull back with the tour was because we wanted to go ahead and get some music out as well. We were gonna head out with just the music we had before, but we knew how important it was  – since our last record was in 2009 – to get some new music and give people something new to look forward to. So, when we hit the stage, we can give them something old and new.
On the subject of something new, can you tell us the next single to follow after "Bullsh*t," or are you guys keeping that under wraps for now?
Mike: We ain't gone tell you, we ain't gone tell you [group laugh]
[Laughs] I understand. How do you feel you've grown personally and professionally as a group since the last time you released music together? 
Mike: Personally and collectively as a group, I feel like we've all grown in different areas of entertainment, but we all specialize in one thing in particular. So as a whole, we just brought it all together. Now that Willie and Brian are spearheading the whole business side of things when it comes to the group now and Rob is working on his writing, and I'm doing a lot of the choreography, and you know Que brings the arrangement of vocals…I think we all just put it together and it's becoming something so big because we worked on it by ourselves and we perfected it. Now, it's like a role inside the group so when that comes up, we just throw the ball to the person that takes care of it. That's how its grown from everything in the past.  In the past, we didn't have to do all of this – we didn't have to do everything on our own. We didn't have to be able to carry out what we needed to do. Now, it's more of we can just do it all as one unit – we don't have to go outside.
Do you guys have any plans of getting on a label or are you going to stay the independent route? 
Willie: Right now, independent feels real good. You can't knock that at all. This ride we've been having right now – getting this EP together and talks of us moving on and doing an album. If the contract is completely right for Day 26 going into a major situation, then we'll definitely entertain it. Other than that, right now we feel good driving in the seat right now. The seat that we're driving in is a great seat to be in.
How dedicated are each of you to making Day 26 be pushed back into the limelight as much as you once were? Is there still room for each of you to put your solo careers in the forefront of your priorities? 
Willie: Right now, we're definitely 100% into pushing. We're moving everything we got on the solo end – even me as far as my Noviak Music brand, I got everybody that's around me working on Day 26 and everybody else has their entire camps working on it. So, it's like a huge family of people pushing Day 26 at this moment. Of course I definitely have a solo album that I said I'm going to push later on, but right now I'm 100% focused on Day 26 and there's no talks of my other endeavors. Right now, we're talking about this EP – The Return – and this Day 26 movement.
What can fans expect from the new EP coming June 26? 
Rob: What you gone get different on this EP that you didn't get out of music from Day 26 before is that it's totally Day 26. Creatively, the song selection, the writing and even to the arrangements. Everything that went into this content is 100% Day 26. That's the difference you're gonna get. We worked with a lot of great producers prior to this project and a lot of great producers that we looked up to and dreamed of working with. So, it's definitely been a great ride. But, the difference is that this time, you get to hear who Day 26 really is. Even through the titles of the songs and what the song is talking about…it's personal. That's what you're gonna get that you didn't get before.
Mike: Let me tell you right now, when you hear that "Lose Control" on the EP, just know that I was singing that just for you.
[Laughs] I'll take that. When can we expect a full album from you guys and what's the direction for it and the EP?
Willie: Well the EP is actually done already. The direction of the album will come from the response of the EP. The EP is actually setting us up to see what direction the fans and the newer fans would want us to go as far as our next body of work. I think this EP – 8 songs strong – is gone really buy us some time to really cater to it and really get into it where we're not in a rush. I feel like this is gonna be a classic EP. It's gonna be something you wanna listen to for years to come because it's timeless music. It's harmonies on there that only the group can give you and that's why we're the only people able to give it to you right now. So, it's gonna make you feel good. It's gonna bring you back to a place that makes you remember why you exactly loved R&B in the first place.
With all of the new R&B artists that have been surfacing throughout the years, who have you looked forward to seeing grow and out of the new era, who do you look to see prosper? 
Rob: Since Chris Brown came out, I've been a fan of him and I really liked the way his career has gone and where he's taken his career and how he's been able to cross over to touch different genres of music now. Just to see him grow into the artist that I probably knew he was gonna be. So, Chris Brown is one of the people that I've watched and like where he is now. Somebody that I look forward to seeing grow up…I really like Sevyn Streeter. I love her vibe – I love her swag on tracks. I'm looking forward to her career and what she's gonna give us next.
Mike: She got a nice lil' EP out.
Can we hopefully get a Sevyn and Day 26 collab in the future? 
Mike: That's easy. Sevyn's fam man, we can do that. I tell you who I'm excited for though – that new Day 26 EP! I'm excited for that.
Well you aren't the only one [laughs]. Who do you look forward to collaborating with? 
Rob: Ah man, everybody. There are so many great producers out right now and even artists.
Willie: We still haven't gotten that "Promise" song with Ms. Brandy. So we're on her heels.
Mike: You know, it's kinda hard for us to collab with somebody because you know, we SANG. We don't just be bull jivin and shuckin' and jivin out here. We go out here and we go get it! [Laughs]
What's your take on the current state of R&B? Do you feel as if new artists have helped or hindered its growth? 
Willie: I'm not mad, I'm not mad at it at all. But you know, I think the way the world and society has put music right now, it kinda makes you have to do different things just to catch a certain ear. The thing about Day 26 and one thing I love about being in this group is we're catering. When you move around too much in R&B, you kinda lose the essence of it and one thing that Day 26 has been able to capture in a lot of the music we have right now on the EP is capturing the essence of R&B. The reason why you really love R&B and why you would never put R&B and slash it with Hip-Hop. You know, things like that. We have things on this album that's gonna make you really appreciate that true essence. The things that originally made you love R&B – that's what we got. We have been trying to bring it back because it's a lot of good songs out here. But when it comes to that true R&B, that's what Day 26 is.
Rob: I'm not mad at the state of music right now because it's a lot of great artists out doing their thing, but I agree that Hip-Hop has dominated the music industry so much to where you have to throw it in there. I mean I guess it makes you a better artist because you have to tap into different things and to have to cater to what people want to hear – that's part of our job. So, I'm not really mad at it. You got artists out here that can actually do it. For instance, I like August Alsina. You know he sings, but he got this real Hip-Hop kinda feel that you can just bring it in the club. So, I'm not really upset, but as Will said, you gotta keep the essence of R&B and I feel as if that's our role in the industry, period. No mater what's on the radio, when you hear Day 26 come on, it's gonna break the monotony and it's gonna definitely not take you away from where you wanna be. You're gonna feel like you're in the club and everything else.
What artists are you listening to now? 
Mike: I'm listening to Day 26 right now! That "Lose Control"!
Willie: For the past couple of weeks, it has been Day 26. That's all we've been doing is tryna get this EP together. So, he's probably right for the last couple of weeks. Before that though, it was Chris Brown, Trey, Omarion, Jeremih…man, it's a bunch. Ty Dolla $ign, August Alsina, Sevyn Streeter, Jhené Aiko…the list goes on. I'm always tryna see where everyone else is at and what they're putting out so I can know what road to take.
Rob: I always try to keep the old school stuff playing. I listen to a lot of Boyz II Men and a lot of Babyface and Usher. I still listen to a lot of Stevie Wonder and gospel music because I just wanna make sure that with everything going on in the industry, I don't wanna lose that one thing right there. Once you get caught up in it so much, you might just switch. I try to keep a lot of old school and gospel in my records.
-Interview by Ni'Kesia Pannell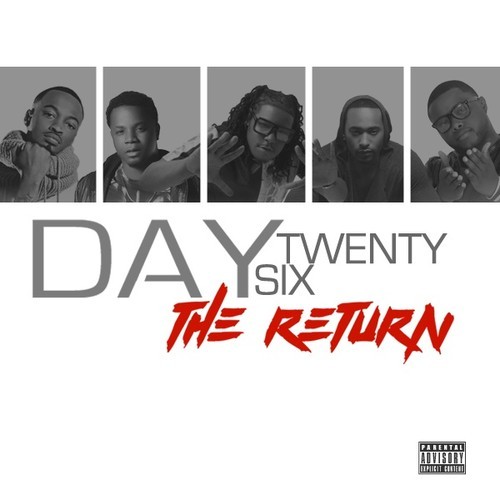 Day 26 – 'The Return' hits stores on June 26!!