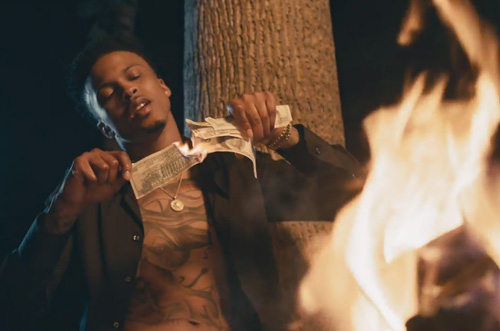 August Alsina is having a very good week. After gracing the cover of Vibe Magazine's new Summer 2014 issue, he announced his first headlining tour "Testimony Live," and is currently prepping for his first performance at the BET Awards this coming Sunday.
But life isn't always as it seems, is the strong message that August is sharing with fans as he premieres the anticipated, controversial music video for his song "FML" featuring Pusha T. Alsina had many fans and critics up in arms last month when he posted an Instagram photo of himself hanging from a noose with the caption, "Rest in peace Aug. Forever missed #holdyoudownforlife". The picture, taken from the set of "FML," was then removed by Instagram for its graphic content.
"I'm livin' this" he says while breaking down the meaning of "FML," which stands for 'F*ck My Life.' "Even when you make it out you really don't make it out. Even when you got everything in the world you still can get to a place where it's like, man f*ck everything."
The cinematic video shows a side that most would never see, shedding a harsh light on some people's reality, using graphic imagery to hopefully push a positive message.
In addition to today's new visual, Alsina plans to release the music video for his album standout song "Benediction" featuring Rick Ross on Saturday during a special episode of '106 & Park,' during The BET Experience.
Check out his powerful video for "FML" below: