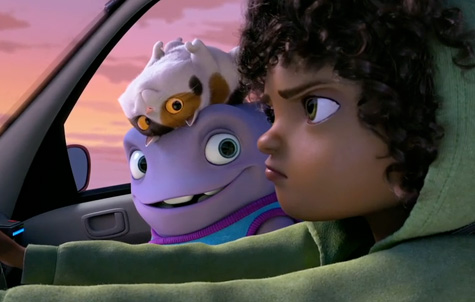 Rihanna has the music universe on lock, but soon she will be stepping into uncharted territory as she hits the big screen in her first animated role.
As we reported earlier this year, the Bajan superstar has a landed a leading role in the anticipated new DreamWorks movie 'Home,' based on Adam Rex's children's book The True Meaning of Smekday.
RiRi plays the lead character Tip opposite "Big Bang Theory" star Jim Parsons. Jennifer Lopez and Steve Martin also lend their voices.
In the film, friendly aliens invade Earth to escape their mortal enemy. When one of their own (Parsons) accidentally reveals their whereabouts, he has to flee with a teenage girl (Rihanna), taking a road trip across a postapocalyptic America. Along the way, he learns what it means to be human.
Rihanna is reportedly working on a concept album based around the film and will perform new songs in the movie.
Home will land in theaters on March 27, 2015. Check out the official trailer below!
[RU]