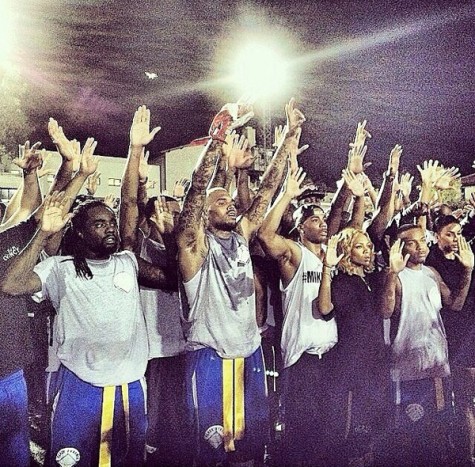 Following last month's kickball game, Chris Brown and Quincy teamed up to host a charity flag football game at Jack Kemp Stadium at Occidental College in L.A. on Saturday.
Team Breezy, which included Game, Wale, Tyga, Trey Songz, Bow Wow, and Omarion, defeated Team Quincy 42-21.
Despite reports that they broke up, Chris was seen cozying up to his on-again-off-again girlfriend Karrueche, who was all smiles as Chris put his arms around her. He later posted an Instagram photo of them together in the car.
At the end of the game, Missouri native Nelly got on the mic and asked everyone to put their hands up and say "Don't Shoot" in protest of the police shooting that left unarmed teenager Michael Brown dead in Ferguson, Mo. Chris, Bow Wow, Trey, Lil Mama, Wale, and the rest of the stadium stood in solidarity with their hands up.
"If anybody can sympathize with what my city is going through, it's this city of L.A. right now on so many levels," said Nelly, who was wearing a #MikeBrown tank top. "So for that respect alone, I'm asking you, I'm begging you, and I'm pleading for you to just raise your hands for a second."
Check out pics and footage from the game and powerful moment below:
(photos via Cassy Athena)