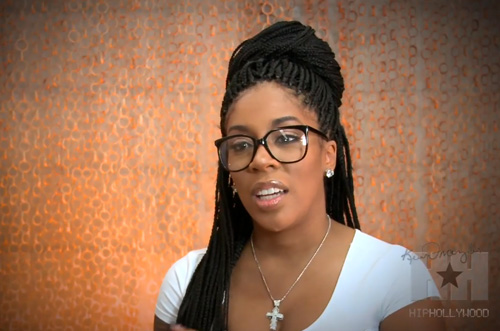 K. Michelle will premiere her anticipated 'Rebellious Soul Musical' tomorrow night on VH1, along with the release of the soundtrack and full digital visual on August 20.
Although many fans never knew, K worked as an exotic dancer in her early 20s to make ends meet when her son's father left, and she needed money to pursue to singing career. While she has never spoken about it very much in the past, during a recent interview with HipHollywood in promotion for the musical, K opened up very honestly about the situation.
"It's just the story of a woman," she explained about the musical. "You know I used to be a dancer, and it's nothing that I'm ashamed of, it's part of me."
When her boyfriend left and ended up marring another woman K was determined to make it on her own and not go back to Memphis. "I would go in and I would dance and I paid for every one of my studio sessions, and I paid for everything within my career. Then one day I made a lot of money and I said I'm never coming back, and for some reason I got a record deal the next week."
The Rebellious Soul Musical is directed by Idris Elba and captures the lust, love, heartache and redemption of a fierce woman struggling to break the cycle of bad romance, set to 9 songs from K's debut album Rebellious Soul.
Check out her revealing interview below, and tune in to the musical tomorrow night at 10pm est on VH1.