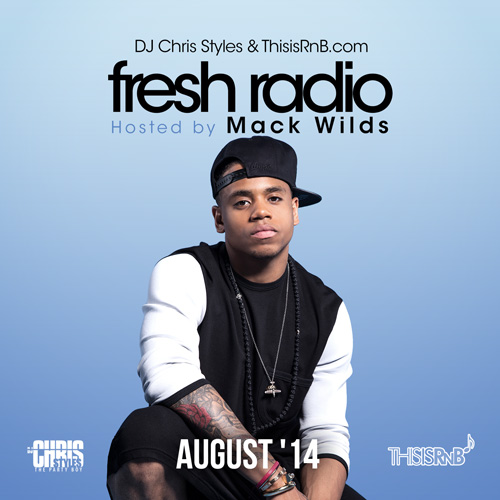 It's about that time again! August is here and we are bringing you this month's brand new 'Fresh Radio' mixtape with DJ Chris Styles of Sirius XM's 'The Heat,' and hosted by singer/actor Mack Wilds.
The 60 minute live mix features some of the hottest R&B singles climbing the charts and rockin the clubs right now, from the likes of Usher, Trey Songz, August Alsina, Elle Varner and many more. Plus exclusive interlude breaks from Mack Wilds, who is currently touring on the "Under The Influence Tour" with Wiz Khalifa, Jeezy, Ty Dolla $ign and more.
Follow the jump to stream and download the mix now!!
#FreshRadio
Tracklisting:
01. Mack Wilds Intro
02. Usher ft Nicki Minaj  – She Came to Give It to You
03. Trevor Jackson ft Kirko Bangz – Me Likey
04. Cris Cab – Liar Liar
05. Mack Wilds Break
06. Mack Wilds ft Pusha T – My Crib (Remix)
07. Trey Songz ft Nicki Minaj – Touchin, Lovin
08. Brave – Ooh (Luv Ya)
09. Sia – Chandelier (Plastic Plates Remix)
10. Mack Wilds Break
11. Adrian Marcel ft Sage The Gemini – 2am
12. DJ Carisma ft Tory Lanez, Eric Bellinger, Mishon – Anyway
13. Rayven Justice – Hit Or Nah
14. Gabi Wilson – Something to Prove
15. Mack Wilds Break
16. Mack Wilds – Magic
17. Mack Wilds – nEXt (Remix)
18. Elle Varner ft A$AP Ferg – Don't Wanna Dance
19. Beyonce ft Nicki Minaj – Flawless (Remix)
20. Jessie J ft Ariana Grande & Nicki Minaj – Bang Bang
21. Mack Wilds Break
22. Trey Songz ft Mila J – Disrespectful
23. Partynextdoor ft Drake – Recognize
24. Mishon – No Flex Zone (Chris Styles Freestyle)
25. August Alsina ft Nicki Minaj – No Love
26. Jasmine V ft Kendrick Lamar – That's Me Right There
27. Mack Wilds Outro
DL: DJ Chris Styles & ThisisRnB – 'Fresh Radio' (August '14) (Hosted by Mack Wilds)