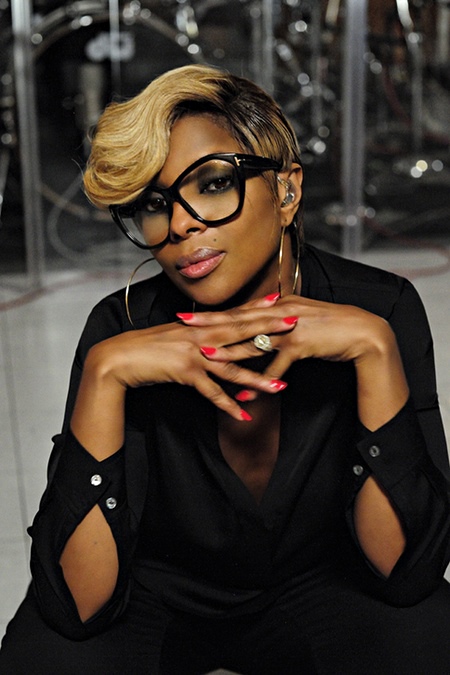 Mary J. Blige has been paying attention to the massive amount of impressive talent and releases emerging from the UK over the past few years, and she wants in! The Queen of Hip Hop Soul recently spent a month in London working on and cultivating the sound of a brand new album.
While a rumor of the pending project which surfaced online this past July, the R&B legend has officially confirmed and shared details about the album, simply titled 'Mary J Blige: The London Sessions' with UK publication The Guardian.
Working out of RAK studios, MJB has been working with House music duo Disclosure, Sam Smith, Jimmy Napes, Naughty Boy, Emeli Sandé and more on the upcoming project that promises to be the most innovative album of her 22-year career. Although she recorded the album in London and worked with an array of the UK's latest star talent the project will be executive produced by Rodney "Darkchild" Jerkins. "On the final record, we wanna keep the feeling of London," said Jerkins. "You have so much different music here. Variety births the next generation. In California the music kind of all feels the same. That 90s house vibe you have right now – it feels fresh. Dancin', celebratin' – feelin' good about life. We're making a Mary Blige record, but she can introduce new styles to the world."
Disclosure were the starting point for Blige's fascination with London's new crop of music-makers. Late last year she saw the duo's single F for You on the Vevo video site, and got in touch with them about covering the song. The resulting release was not a cover, but an astutely balanced duet, composed by Blige, that retained the vocals of the group's 20-year-old singer Howard Lawrence and married them with a set she had written herself. Her contribution brought new depth to the original: driving, gutsy, soulful – it made Disclosure sound immeasurably funkier and was the most original thing she had done in years.
"Our idea was to become part of London, to really embrace the culture – to really live in it," says Mary. "Not that I haven't been here before, but I've never had the chance to really soak in it the way I have this time. To make records from the London-scene perspective." What is that exactly? What does she think London has? "Freedom," she says. "The music is free over here the way it used to be in the States. Artists are just free to do what they love. Listening to the radio you can hear the freedom. The music is living and breathing – you can hear that from Adele's last album. It was massive – a big deal. But she did what she loved."
Sam Smith also shared his take on the success of so many new artists from the UK, and what the project will deliver. "With my record – and when you think about Adele, and Amy Winehouse and Ed Sheeran – we're not worried about the way we're looking, the way we're coming across in our music," he said. "We're just saying what's in our minds and in our hearts. Some people think that when you are singing about heartbreak, or how lonely you are, or how sad, that you are admitting to weakness. But I don't see that as weakness. I see that as strength – to be able to face your issues and your sadness head-on. That's what I've tried to do in my music, and I think that's what this Mary album is about – a fearless vulnerability."
[via The Guardian]
(photo by D'Andre Michael)