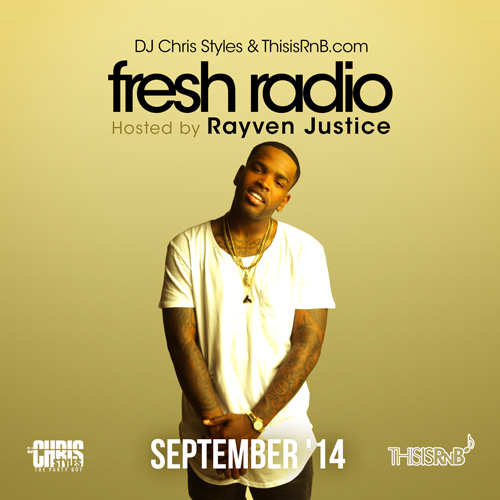 It's about that time again! September is here and we are bringing you this month's brand new 'Fresh Radio' mixtape with DJ Chris Styles of Sirius XM's 'The Heat,' and hosted by buzzing Bay Area singer/songwriter Rayven Justice.
The 60 minute live mix features some of the hottest R&B singles climbing the charts and rockin the clubs right now, from the likes of Usher, Jeremih, Tinashe, Chris Brown and many more. Plus exclusive interlude breaks from Rayven, who recently released his official debut EP 'I Have a Dream,' which is on iTunes now.
Follow the jump to stream and download the new mix now!!
#FreshRadio
Tracklisting:
01. Rayven Justice Intro
02. Rayven Justice – Might As Well
03. Rayven Justice feat. Joe Moses – Forgot Your Name
04. Tiara Thomas – One Night
05. Jennifer Hudson – Dangerous
06. Rayven Justice Break
07. Rayven Justice – Hit or Nah
08. Mila J feat. Ty Dolla Sign – My Main
09. DJ Mustard feat. Eric Bellinger & Fabolous – 4 Digits
10. Ariana Grande feat. The Weeknd – Love Me Harder
11. Rayven Justice Break
12. Teeflii feat. 2 Chainz – 24 Hours
13. Usher – Believe Me
14. Chris Brown – X
15. ILoveMakonnen feat. Drake – Tuesday
16. Justine Skye feat. Tyga – Collide
17. Rayven Justice Break
18. Rayven Justice feat. Migos – Slide Thru (Remix)
19. Tinashe – Checks In
20. Carmen – Cold
21. Jeremih feat. YG – Don't Tell Me
22. Omarion feat. Jeremih – Show Me
23. Bando Jonez feat. Young Jeezy – There She Go
24. Jazmine Sullivan – Forever Doesn't Last
25. Elijah Blake – You Are My High
26. Jhene Aiko – Spotless Mind
27. Tinashe feat. A$AP Rocky – Pretend
28. Rayven Justice Outro
DL: DJ Chris Styles & ThisisRnB – 'Fresh Radio' (September '14) (Hosted by Rayven Justice)