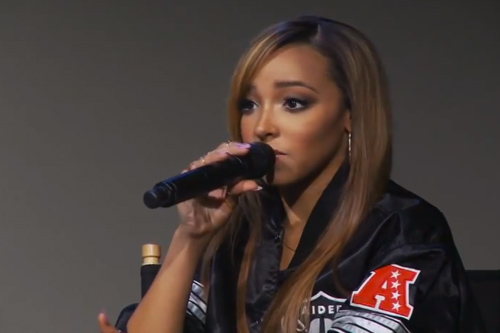 With her debut album in stores Tinashe took part in Apple's free "Meet the Musician" event while she was in NYC.  The sit-down Q&A was moderated by Hot 97's Miss Info and gave fans the chance to get up-close-and-personal with the rising R&B star, and have some of their own questions answered live.
During her chat with Miss Info, the Cali native spoke about the amazing feeling of finally releasing her debut LP Aquarius, why it is different than any of her other releases, her multiple talents as a singer, songwriter, producer, and dancer; and how that all plays into her creative process.
Additionally, Tinashe talked about still living at home with her family, and recording many of the album's songs from her bedroom studio, which she revealed never got awkward – even when she was singing some rather risque lyrics. She spoke about the small group of people she truly accepts constructive criticism from, some of her bigger dreams for her career, and dream collabo.
Check out the full interview below: