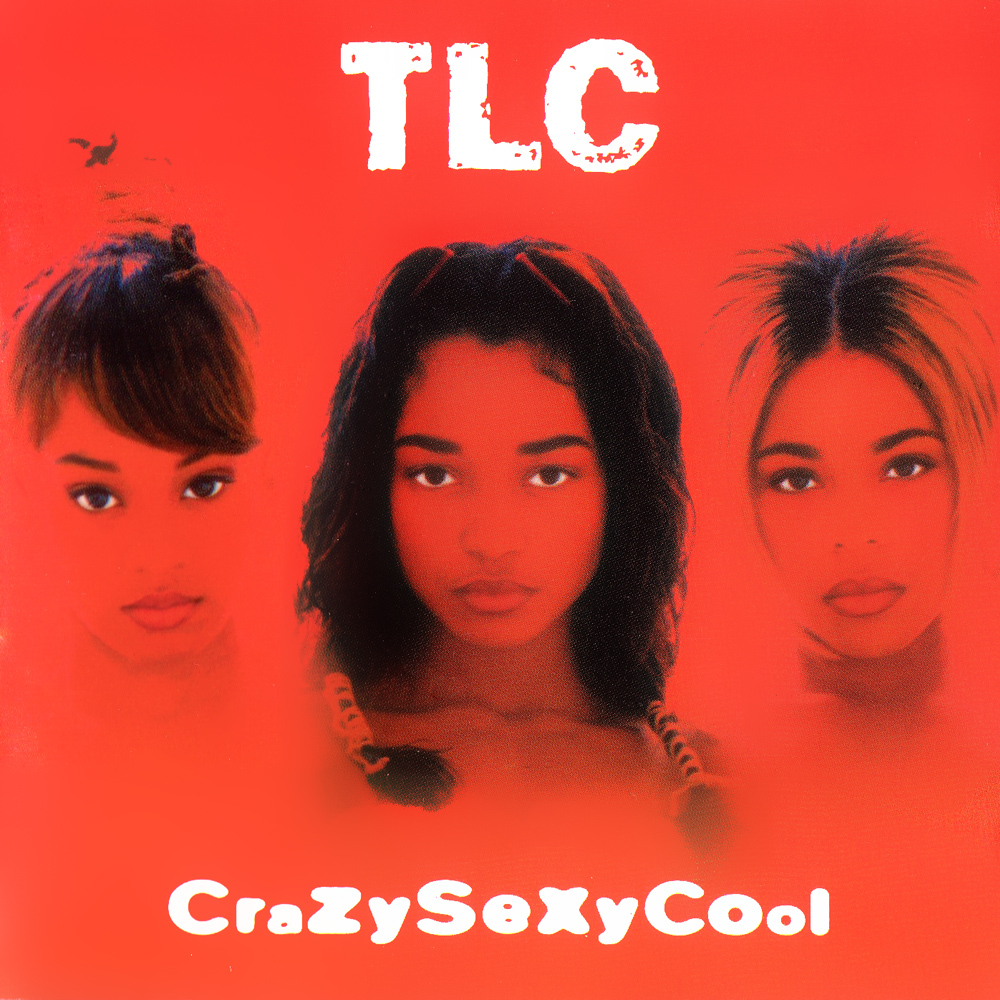 Nov. 15, 1994 there was a musical explosion. One of the greatest R&B albums of all time was released. That album, was the legendary TLC's sophomore effort, CrazySexyCool.
The album was a collaborative work by some of the most profound writers and producers of the time, including Kenneth "Babyface" Edmonds, Dallas Austin, Jermaine Dupri, and more.  The LP's title delivered a relatable identity for fans as Left Eye represented the "Crazy," Chilli the "Sexy," and T-Boz the "Cool."  Laced with sexy and sultry ballads, and some up-tempo flava, the album will live on forever as a staple in the R&B genre. TLC's pioneering blend of R&B, Hip Hop and Pop music resonated extremely well with mainstream audiences as fans rushed out to buy the Atlanta trio's sophomore project.
The album stayed on the Billboard 200 chart for more than two years and simultaneously went diamond, making TLC the first girl group to achieve this success. To date, CrazySexyCool has sold over 23 million copies worldwide, becoming the best-selling album by an American girl group, and the second best selling album worldwide behind the Spices Girls' Spice. All four singles from the album reached the top 5 of the Billboard Hot 100, two of them reaching number one.
As the double-diamond certified album turns 20 this month, it's only right that we reflect on the amazing Crazy, Sexy, Cool of TLC's second album!
The album's lead single "Creep" topped the Billboard Hot 100 for four weeks, and was one of the biggest singles of 1995, coming in at No. 3 in the Billboard Year End Hot 100 Singles of 1995. It also reached number one on the Hot R&B and Hip Hop Songs Chart. The third single, "Waterfalls," became TLC's most successful song, spending seven weeks at number one. It was also the second-biggest single of 1995, according to Billboard, which gave TLC two songs in the Top 3 of the 1995 Billboard Year-End chart!
Press play and check out our track-by-track review below:
1. "Intro-Lude": The trio gets an assist from A Tribe Called Quest's Phife Dawg. He kicks off this interlude with a little Hip Hop flavor. The "five-foot freak" raps about each of the ladies style to get the party going.
2. "Creep": The lead single kicked in the door for what would be an amazing album. As soon as one hears that trumpet and T-Boz's intro: "Yes it's me again," they already know what time it is. The trumpet sample heard throughout the track gives feeling to what the song is ultimately about: "creeping". T-Boz has a cheating man, and rather than leave him, she goes elsewhere for her sexual needs. T-Boz's raspy lead vocals and Dallas Austin's production made for a classic female anthem.
3. "Kick Your Game": On the Jermaine Dupri-produced track, T-Boz and Chilli let the fellas know that they will have to bring their A-game if they want to step to these divas. Chilli wants you to come with something more clever than just your name. After all she wants to take you home but it really depends on how you kick your game! The beat carries the track and makes for a smooth, feel-good song. Left Eye comes in with a clever rap dialogue between herself and an interested male. Here, she reminds fans why she is so great as she goes up against all of the game this guy tries to spit.
4. "Diggin' On You": Take it to the bridge Babyface!!! Take it to the bridge.
TLC is in a deep groove on this Sunday afternoon. T-Boz tries to mind her own business but spots a fine guy in the park. To make it worse Chilli relays the message that the guy also has a thang for T-Boz. The track is a feel-good track great for any kind of mellow low-key activity. It conveys the feeling of a new lightweight flirtatious crush. Another memorable moment is Chilli's bridge as she sings, "Oh why do I feel the way I do? When all I can think about is you?… Do you know, why I'm diggin, diggin, diggin on you?," over the smooth Babyface production, reminding us how sexy the track truly is.
5. "Case of the Fake People": Dallas Austin is back with another groove, in fact one that contains an O'Jays' "Back Stabbers" interpolation. T-Boz and Chilli wave bye to the backstabbing fake individuals that hang around those that have celebrity status. Chilli actually stated that this was her favorite track off the album, as it was a point of discovery about some of the fake people they had around them.
6. "CrazySexyCool-Interlude": T-Boz takes a moment to talk to the fellas letting them know that the type of girl they need to get with, is one that's kind of like her. She lets them know that she encompasses all of TLC as she is crazy, sexy, and cool. She also shares she has a nice sense of humor, can put it down in the bedroom, and she can still roll with the fellas. This track rounds out with an element of cool as known producer Sean "Puffy" Combs is so into her and encourages her by saying "Rock on".
7. "Red Light Special": Babyface checks in with some sexiness that only Babyface could produce. This track showed the sexy and vulnerable side of TLC. The ladies let their men know that it's all theirs if they want it. Leaving nothing to the imagination, the trio is direct about their desires asking their men to come through the door, take off their clothes, and turn on the red light. What makes the track even sexier are those guitar riffs!!!
8. "Waterfalls": TLC's biggest song to date. The soulful brassiness of T-Boz's voice and Left Eye's classic rap verse made for a great song addressing societal issues that still haven't been completely solved to date. The song addresses the issues of HIV and drug problems in inner-city neighborhoods. Left-Eye addresses drug use, violence, and personal mistakes. Together TLC deliver the message of hope that all of the issues addressed can be fixed.
9. "Intermission-lude": Crazy-Sexy-Cool. Just a friendly reminder of the album's title.
10. "Let's Do It Again": Sometimes moments with others bring the feeling of ecstasy, of course making you want to do them again and again. T-Boz and Chilli sing about wanting to make love over and over again because it was just that good the previous times. The pair take it further than "Creep" and "Red Light Special" here, asking for their significant other to come and light the fire inside of them. Good love making will have you like…
11. "If I Was Your Girlfriend": This is an interesting cover of a Prince original. The original was about a man trying to get up close and personal with a woman by imagining himself as her close friend. TLC sing it from the female perspective which is more relatable for females who desire to be an unavailable man's love interest.
12. "Sexy-Interlude": Hilarious and nasty. Chilli calls Puffy in a seductive voice telling him she needs his help with something. In a low sexy voice accompanied by some heavy breathing, she takes it completely left asking Puffy to hand her some tissue so she can wipe her ass. LOL!
13. "Take Our Time": Here we are given another sexy bedroom boom. Chilli takes lead asking her beau to kiss her and hold her tight. Like "Let's Do It Again," she wants to be taken to ecstasy with some good love making.
14. "Can I Get a Witness-Interlude": Busta Rhymes blesses the final interlude with his presence saying that he wants one of those crazy, sexy, cool women. His lady has to be able to get down with the crew too. He testifies about wanting a woman who is ready to rip someone's face off and who will also represent. Left Eye testifies with him saying "Can I get an amen; can I get a witness."
15. "Switch": T-Boz let's it be known that she will not answer to anyone about who she is hanging with and what time she gets home. She let's it be known that this little relationship is not working and she is going to have to make a SWITCH. Left Eye isn't taking any mess from anyone either as she raps, "I said if your man starts actin' up switch and take his friend." These fly ladies were not for the controlling type of guy.
16. "Sumthin' Wicked This Way Comes": A-Town legend Andre 3000 of Outkast opens the track with his southern twang addressing things like gang violence and people selling out. The song has a sad feeling to it as T-Boz sings "I just don't understand the ways of the world today. Sometimes I feel like there's nothing to live for." Left Eye calls for people to let go of bitterness and refocus on the positive and to also just "do them".
To celebrate the 20 year anniversary of CrazySexyCool, I caught up with TLC's Chilli to discuss TLC's legacy, the making of the album, its impact, and more! Check out the full interview below!
____________________________________________________________________________
We are celebrating the CrazySexyCool album's 20th anniversary. Talk about the making of that album; I know there were some big name producers involved such as Babyface, Dallas Austin, Jermaine Dupri and more.
Chilli: We used the same producers that we always worked with. We worked with Dallas, Babyface, and Jermaine on the first and second album the only thing we had new was Organized Noize. Phife Dawg from A Tribe Called Quest did the interludes. People don't do interludes anymore and I don't know why they don't; they are so fun. It was a really fun album to make. This is a time where we weren't always in the studio together; sometimes we went in one by one because everyone was so busy. I spent so much time recording with Babyface, and it was a great album to make.
The album went Diamond, and TLC was the first girl group to achieve that success, tell me about that feeling.
Chilli: It's very exciting; it was a dream come true. It's hard to reach a lot of people especially that amount of people. We love the fact that people love us because we are being who we are. We aren't acting. We are very serious about the messages we put out. The girl power thing is really who we are. I think fans loved that we are so relatable; we are like your girlfriends or your sisters. When people can relate they understand and connect better.
Every single reached the Top 5 of the Billboard Hot 100, and the album has been referred to, on many lists, as one of the greatest albums of all time. Does it feel surreal now? Did it feel surreal back then?
Chilli: Back then it was times when it didn't seem real, but we came out during a time when people really bought albums; it was no downloading. The competition was steep. We never looked at girl groups as competition; we looked at Boyz II Men and Jodeci. We wanted to hit numbers like M.C. Hammer because he was selling like crazy. The fact that we were able to compete with those guys is when we really got excited.
The lead single was "Creep". Was it an unanimous decision to make that the lead single?
Chilli: A lot of times when you have your main producer that takes lead in your project they usually have the first single. But we loved all of our singles so we didn't care what was released first. It was one of those albums where we liked every song. With CrazySexyCool the stars were really aligned for us because that was really a great album.
People always say they miss the '90s and the era that was CrazySexyCool. When I think of this album I think of smooth seductive vocals, contemporary soul, great songs, voluptuous beats, great song writing…. how would you define the album and the era?
Chilli: I would define it like the title; our personalities… the music… that whole era for us was Crazy, Sexy, Cool, Period.
What do you miss about '90s R&B?
Chilli: We were more than R&B, we were Hip-Hop and Pop as well. As far as R&B is concerned now, I feel what's missing is the lyrical content. You have people that are singing but its missing the lyrical content and the stories. When I think of Jodeci's albums like 'Forever My Lady' we don't have records like that anymore. And Boyz II Men songs like "End of the Road" or "Bended Knee" like really; songs that people want to hear at their wedding. Songs that could be you and your boo's record. Now you're just talking about beating it up. What the hell are you supposed to be beating up? I know you are not talking about my vagina because now you aren't going to get it (chuckles). There's no more fore-play, no more courting, no dating. It's straight to the bed.
How did R&B go from "I'll Make Love To You" to pull your panties to the side?
Chilli: It's okay with some songs like that but not when superstars make songs like that all the time when they have the power and ability to do more. It's disappointing especially from seasoned artists or a whole album. It's not cool; it's no more variety. It was so much variety in the '90s.
"Waterfalls" was the most successful track to date from the album. Everyone remembers where they were when the video came out. The video, the message, the Grammy nominations, TLC winning two of those Grammy nominations. How did it feel having the vision of the record and the video, to it coming to fruition and the success that followed?
Chilli: Left Eye was up there all the time so we made her go sell it to them with what we wanted it to look like and what we thought it would cost. Radio wasn't jumping on the record, they didn't know what we were talking about. The video brought it to life. Videos then told the story. Radio was still on "Creep" because they had seen the video. Once we teamed up with F. Gary Gray to bring our vision to life, it was over at that point. The rest was history.
What is a crazy behind the scenes moment from the CrazySexyCool album?
Chilli: The infamous Vibe cover. Vibe set us up but we totally fell for the ookie doke. Lisa had burned the house and everything and at the video shoot we would take whatever a stylist would bring rip it up and make it a TLC outfit. There were police uniforms and firemen suits. When I saw the firemen suits I was the one like we have to wear these. I wasn't thinking about what had just happened and the fact that my sister is on probation and if she does anything wrong she can go to jail. They weren't thinking either they were like yeah this is dope . And I'm sure Vibe was like we are going to have the cover of life. It was so innocent we just saw fashion and the picture they chose with Lisa with her lip to the side like "and what" and a nonchalant attitude of the situation. When it came out the judge called immediately. We got in a little bit of trouble (chuckles) but it's water under the bridge. We weren't trying to be some smart asses and not take the situation seriously, but that's what it appeared to be [from the shoot].
Is there anything you would like to leave with your fans?
Chilli: I just really want to thank them for just loving TLC and embracing the outside of the box way we think and how we do everything. They were riding with us the whole time. Most are grown now and have kids and have introduced our music to their kids and that means the world to me. We always stuck together. We are real sisters that love each other, but we never abandoned each other and our fans never abandoned us.
–Interview and Review by Rea Davis