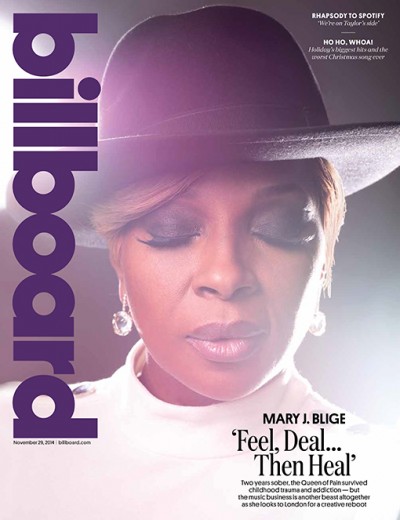 Mary J. Blige has become one of the most legendary singers in the R&B genre to date. From her relevancy over the last 20 years to overcoming her own personal battles, the life and times of MJB has been an incredible story to watch. And, if you're as lucky as some of us, you've been able to watch it from her arrival on the scene in the early '90s, up until where she is now in 2014.
Covering this month's issue of Billboard magazine, The Queen of Hip-Hop/Soul took some time to discuss her 13th album, The London Sessions, as well as her expansive and interesting journey through the music industry. Opening up about her tremulous past, the icon stated: "I was ready to just check out. It was a moment — I can't get into it — but I saw my life going and I was grabbing for it. I was like, 'No, no, no, no, no.' That's when I realized that I don't want to die. And I switched, and I started praying and crying, and my life shifted right there."
Now, two years sober, Mary told the famed outlet, "Sometimes I go to dinner with my sister and my friends, but it's very light now because I don't drink and hang out anymore," she says. "So you know I can't be in a club. If I ever felt like going out and dancing, I could do it. I could sit around everybody while they're drinking, but I just don't want to."
In addition to touching on her past, MJB the MVP, talked receiving advice from her go-to man Elton John, her budding friendship with Sam Smith, what she keeps in rotation, Amy Winehouse, and much more. Perhaps one of the best interviews she's given recently, you can't help but love Mary even more after reading this.
Take a look at the pics and behind the scenes footage of the shoot shoot below! And, if you're looking to read the full interview, click here!