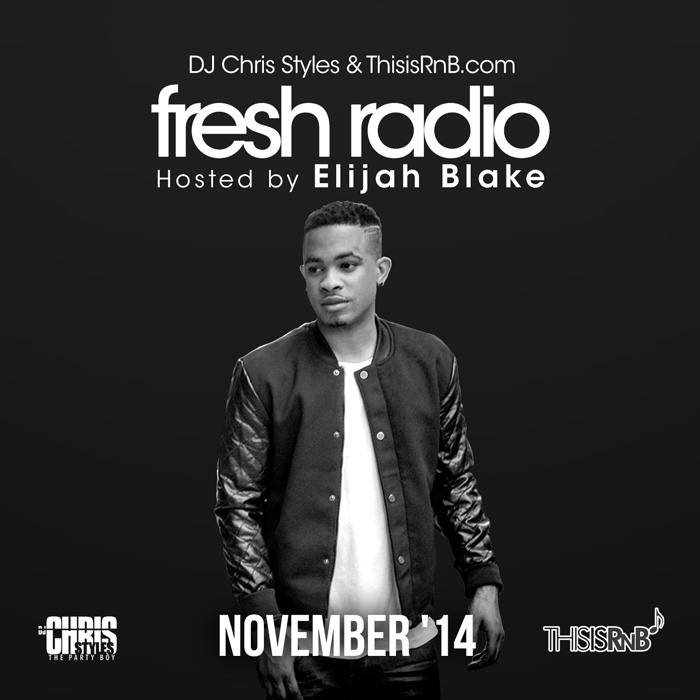 It's about that time again! November is here and we are bringing you this month's brand new 'Fresh Radio' mixtape with DJ Chris Styles of Sirius XM's 'The Heat,' and hosted by rising R&B star Elijah Blake!
The 60 minute live mix features some of the hottest R&B singles climbing the charts and rockin the clubs right now, from the likes of Chris Brown, Mary J. Blige, Adrian Marcel and many more. Plus exclusive interlude breaks from Elijah, who released his brand new EP 'Drift' last month.
Follow the jump to stream and download the new mix now!!
#FreshRadio
Tracklist:
01. Elijah Blake Intro
02. Elijah Blake feat. Rick Ross – Sing For Me
03. Rick Ross feat. K Michelle – If They Knew
04. Audrey Rose feat. Troy Ave – That Love
05. Tinashe – Watch Me Work
06. Elijah Blake Break
07. Fergie feat. YG – L.A. Love (Remix)
08. Lyrica Anderson feat. Wiz Khalifa – Sex You Up
09. Wash feat. French Montana – Can't Trust Thots
10. Chris Brown – Time For Love
11. Mary J Blige – Right Now
12. Elijah Blake Break
13. Elijah Blake feat. J Cole – Vendetta
14. Chris Brown & Trey Songz – Studio (Remix)
15. Teyana Taylor feat. Chris Brown – Do Not Disturb
16. Adrian Marcel – Spending That Night Alone
17. DJ Khaled feat. Usher, Rick Ross, Fabolous – Hold You Down (Remix)
18. Elijah Blake Break
19. Elijah Blake – Come Away
20. Goapele feat. Eric Benet – My Love
21. Lion Babe feat. Childish Gambino – Jump Hi
22. Eric Bellinger feat. TeeFlii & Pleasure P – Valet
23. B.O.B feat. Trey Songz – Not For Long
24. Elihah Blake – Black Whiskey
25. Elijah Blake Break
26. Rae Sremmurd – No Type
27. Janine & The Mixtape feat. Pusha T – Hold Me
28. Elijah Blake – Strange Fruit
29. Elijah Blake Outro
DL: DJ Chris Styles & ThisisRnB – 'Fresh Radio' (November '14) (Hosted by Elijah Blake)