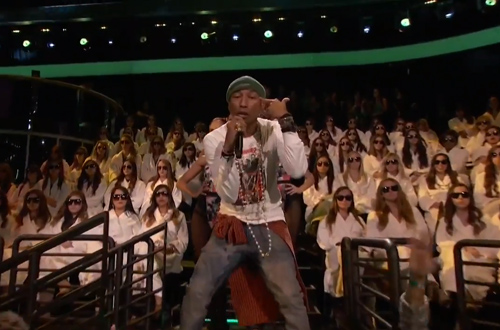 Being a coach on NBC's 'The Voice' comes with many perks, but possibly the biggest of all for the artists is getting the national stage to promote their latest music and singles.  Waiting until the first week of the live playoff shows, first year coach Pharrell Williams finally hit the stage on Tuesday night.
The platinum hitmaker got the audience on their feet as he performed the funky jam "Hunter" off his acclaimed new album G I R L.  Looking more like the Skateboard P of the mid 2000s, Pharrell rocked a green headband, Thrasher t-shirt, and lots of jewelry.  He paid homage to his album cover by filling a section of the audience with woman in white robes and dark shades.
Watch P show 'em how it's done with his performance below!