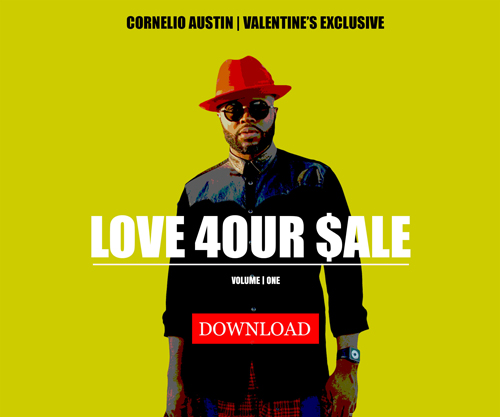 Singer/songwriter and producer Cornelio Austin kicks off Valentine's weekend with the release of his brand new EP 'LOVE 4OUR $ALE,' which is available right now as a free download.
The veteran music producer has written and produced songs for the likes of Chris Brown, Eric Bellinger, BJ The Chicago Kid, Leela James, Keith Sweat, K-Ci & Jojo, Goapele, and many more.
LOVE 4OUR $ALE Volume | ONE features 8 tracks with a preview of songs from Volume 2 at the end. The lead single, "Everyday | Valentine," which is available on iTunes, has a '90s vibe with a feel-good modern twist and sexy lyrics about the special lady in his life. "Love On Mars" brings listeners on a journey through sound and imagination, as the singer describes love as being a very surreal and scientific experience between two lovers. "It's an out of body experience / Levitating when we touch / Ooh it blows my mind / Life is so sublime," he sings.
On the sensual ballad "Drought is Over," Cornelio lets his lady know he will be turning her on in all the right places, singing: "Tonight I'm about to let it rain / I'm gonna wash away the hunger and quench your body's thirst / I've gotta let it storm / The Drought Is Over."
"Overrated" is a story is about an over aggressive female trying to make a move on him while in the club with his special lady. Although the advances from the other girl are very tempting he makes it known that being a player is so overrated. "Beautiful Music" is a creative masterpiece as Cornelio cleverly uses music terminology to paint the picture of a sexy love scene.
Stream and download the EP for free below!
Tracklisting:
01. History
02. Everyday | Valentine
03. Body Guard
04. Drought Is Over
05. Beautiful Music
06. Love On Mars
07. Overrated
08. You
09. LOVE 4 $ALE VOL 2 (Preview)
DOWNLOAD THE PROJECT FOR FREE HERE
For more info check out Cornelio Austin on Instagram, follow him on Twitter, and like him on Facebook.