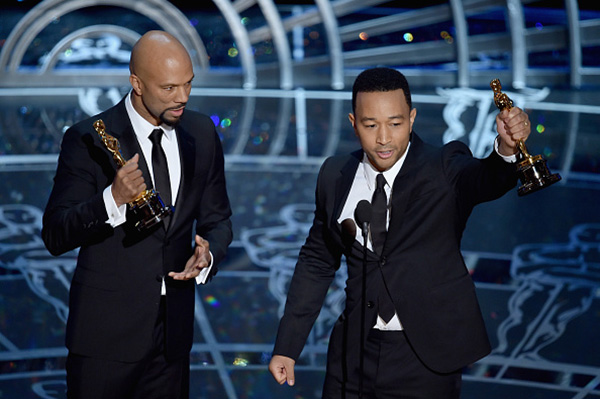 They got it right on Sunday night. Continuing their triumphant year, John Legend and Common took home the Oscar for 'Original Song' at the 87th Annual Academy Awards!
Selma's "Glory" beat out fellow nominees "Everything Is Awesome" from The Lego Movie, "Grateful" from Beyond the Lights, "I'm Not Gonna Miss You" from Glen Campbell…I'll Be Me, and "Lost Stars" from Begin Again.
The singer/songwriter and rapper/actor delivered a powerful acceptance speech. "This transcends race, religion, gender, sexual orientation, and social status," said Common, while John added, "Selma is now, because the struggle for justice is right now. We live in the most incarcerated country in the world. There are more black men under correctional control today than there were in slavery in 1850."
Prior to winning, they delivered a powerful and emotional performance of the call-for-action song, receiving a standing ovation from the audience as many shed tears.
Watch the performance below!