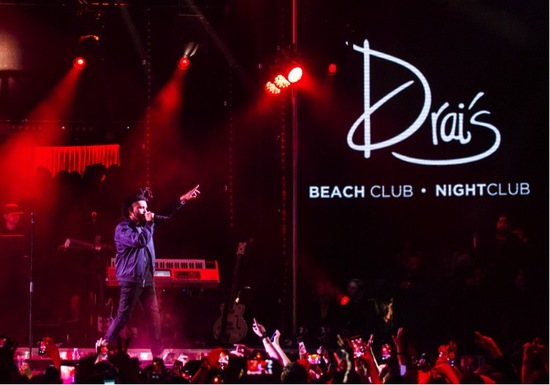 Hot on the heels of two buzz-worthy performances at Coachella, The Weeknd is continuing his trajectory of worldwide domination with a new residency at Las Vegas' only indoor/outdoor rooftop club – Drai's Beachclub • Nightclub at The Cromwell.
With dates already scheduled for May 23, June 13 and July 3 (more to be released soon), The Weeknd is the latest artist to join the Drai's LIVE resident roster.
The Weeknd has already performed a trio of live concerts at Drai's, so fans can expect his upcoming residency to be well seasoned and more exciting than ever before.
"The Weeknd is having arguably the greatest year right now," said Drai's managing partner Ryan Michael Craig. "Not only did he win big at the Juno Awards, and not only is he tearing up the music charts right now, but he just signed on for a Las Vegas residency deal at the hottest club in town. Bringing fresh, relevant acts like The Weeknd to our expansive stage at Drai's offers partiers a multi-dimensional experience they won't receive at any other nightclub or concert venue."
For more information on Drai's, or to purchase your tickets to The Weeknd's upcoming Drai's LIVE concerts, visit draislv.com/theweeknd.