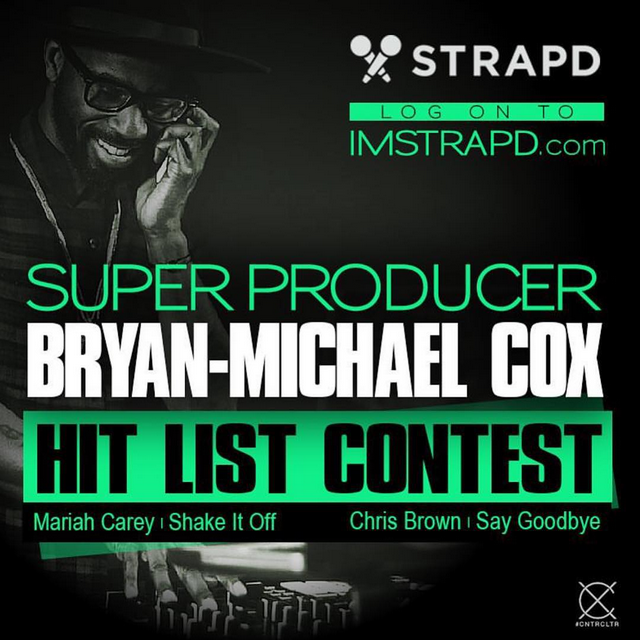 Grammy Award-winning songwriter/producer Bryan-Michael Cox is looking for a new star with the recently launched online music contest "ImStrapd."
Throughout his accomplished career Cox has been behind an extensive amount of chart topping and platinum records, with such notable artists as Usher, Mariah Carey, Mary J. Blige, and Toni Braxton. He has been responsible for over 100 million record sales, 35 number one hits, and 12 Grammy Award nominations (including 8 wins).
STRAPD stands for Supporting Talent Raising Awareness and Promoting Dreams.
Cox says, "Strapd is the new wave! A cutting edge platform that creates a new way for aspiring artists and veteran industry heavyweights to interact."
Read more details below:
For the opening stage of the contest Cox will watch video submissions from aspiring artists. The contest is open to any unsigned artist from all genres. The video submissions must not exceed 30 seconds and be an acapella version of Mariah Carey's "Shake it Off" or Chris Brown's "Say Goodbye."  The top ten finalists will receive free entry into the Bryan Michael-Cox single deal contest.
The videos must be submitted to www.imstrapd.com. The finalists will be chosen by the number of votes the video earns. One person equals one vote. You can only vote once each day. Artists are encouraged to promote their video on social media.
Now you have a chance to let him hear your best 30 second acapella version of one of the following songs:
Mariah Carey "Shake it Off"
Chris Brown "Say Goodbye"
Week 1:
Submission period: Tuesday June 30, 2015 – Friday July 10, 2015 5pm (EST)
Voting: Saturday July 11, 2015 – Friday July 17, 2015
RULES:
Open to any unsigned artist (all genres)
Video Not to exceed 30 seconds
Must be sung acapella (without music)
Upload Video
Promote Video through social media (Facebook, Twitter, Instagram and etc.)
1 vote per 24hrs (per user)
Videos are ranked based on votes only. (Not Views)
THE TOP 10 FINALISTS RECEIVE FREE ENTRY INTO THE BRYAN-MICHAEL COX SINGLE DEAL CONTEST