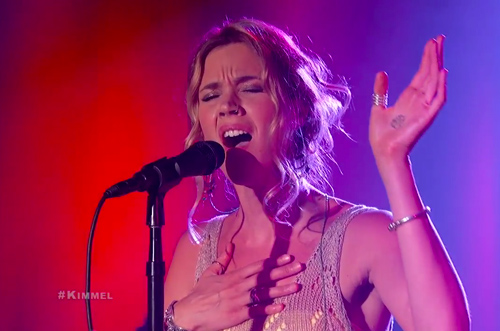 The soulful Joss Stone brought her gifted talent to the indoor stage of 'Jimmy Kimmel Live' on Wednesday for a performance in promotion of her forthcoming new album Water For Your Soul, in stores July 31.
Opening her set with a stirring performance of "Stuck On You," the English songbird gracefully belted out the lyrics. She previously revealed it is her favorite song off the new album. "I've been playing new songs gradually while on the road and it really is the scariest thing," she told Official Charts. "I find when you're playing new songs it's important to explain what it's about, otherwise it doesn't go down very well. Stuck On You has gone down really well live, people really like that one. I mean, it's got a Sarod in it for goodness sake! It's also probably my favorite song on the album. I really love it."
Additionally, Stone performed the groovy new song "Molly Town," which is driven by an island rhythm and timbre.
Watch Joss' late night performance below!