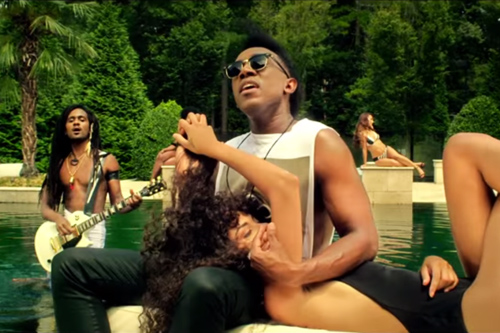 One of our favorite cuts from Janelle Monáe's Wondaland Records debut EP, The Eephus, is the soulful "Let's Get Caught" by Deep Cotton featuring Jidenna, and now it has been brought to life with a sensational video.
Opening with Nate Wonder seducing the camera live from the bedroom, while phoning a sexy female to join his already stacked stable, the Sebastian Urrea-directed visual takes place in a lavish mansion. Chuck Lightning has his lady reading to him while resting in a bathtub full of books, before the duo throw a private pool party during the day, which turns into a full on concert performance at night. Jidenna shows up with is crew to rap his charismatic verse, while Deep Cotton rock out.
"On every planet, in every galaxy, across every alternate reality that there is: it just feels so damn good to be bad—end of story," Deep Cotton told The Fader. "It's a story as old as time; we're just giving it to you in some brand new clothes. So, enjoy this song and video responsibly in the company of any man, woman, or droid you happen to want to get to know better. We promise that the world will be a better place once you do."
We can't help but agree… Peep the new video below!