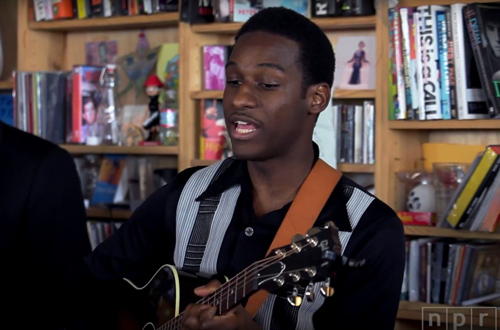 If the Urban Dictionary ever creates a definition for pure soul, soul sanga—yes, sanga—Leon Bridges should be considered as the frame of reference.
During his recent acoustic performance for the NPR Tiny Desk concert series, Leon summoned the classic sound of 1960s soul with his effortless charm and stellar vocals. Perfectly accompanied by his band, Leon delivered an epic set that surely left the audience yearning for more.
Starting out with the title track from his debut album, Coming Home, Leon crooned a melodic ode to his lady. On the bluesy, "Smooth Sailin,'" Leon played his guitar while singing lyrics that painted a metaphorical picture of easygoing desire. Showing that he has a wise soul inside of a young body, Leon paid tribute to his grandparents' courtship on the juke joint inspired, "Twistin' & Goovin'."
With humility that is missing in many of today's artists, Leon thanked the crowd and his band as he ended the concert with the soothingly hypnotic "River."
Currently on tour in Europe, Leon is scheduled to return stateside next month. Be sure to get your tickets soon, because many shows are already sold out.
Check out Leon Bridges' performance below:
–Written by Raquelle "Rocki" Harris