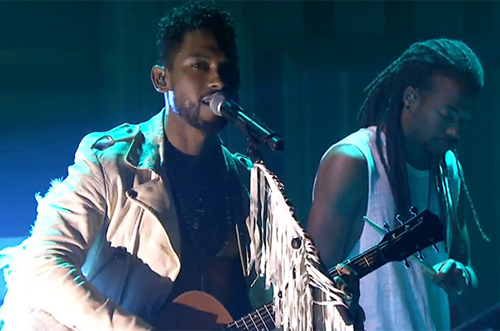 On Monday night, Miguel paid a visit to "The Tonight Show Starring Jimmy Fallon" to perform his single "Simple Things."
Dressed in all white, he initially appeared in profile on stage, strumming an acoustic guitar. Then the lights came on, and he launched into the slow-burning R&B jam.
Afterwards, Miguel competed in a game with Jimmy, Benicio Del Toro, and Jessica Alba called "Long Story Short." He and Benicio, on a team together, had to guess movie titles in under five seconds without saying their names. Miguel described 50 Shades of Grey—"He likes to tie her up," he offered. Benicio missed that clue, and missed another when Miguel described The Notebook as "something you write in at school." But ultimately they were unable to pull off a win.
Backstage, Miguel spoke about how Boyz II Men's Motownphilly album changed his life when he was nine years old.
Later in the evening, he surprised the crowd during Rita Ora's show at Irving Plaza to duet on his single "Coffee."
Check it all out below: