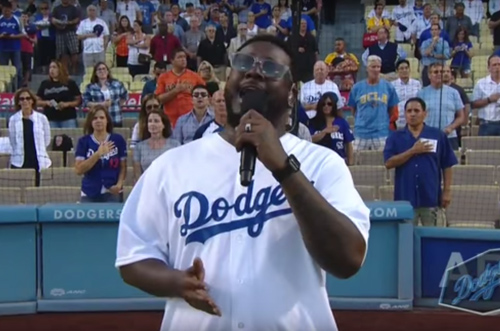 Ever since T-Pain delivered an exceptional acoustic performance for NPR, the singer has been flexing his real vocals more often. Taking his chances at one of the most judged songs to sing live, the hitmaker sang "The Star-Spangled Banner" for the first time at the Dodgers vs. Giants game at Dodger Stadium on Monday night.
Sporting a Dodgers jersey, the Tallahassee native belted out a soulful rendition of the national anthem—complete with runs—as the crowd cheered.
"Thanks for having me @dodgers first time I ever sang the anthem. #ITFDB how was it??" said T-Pain, who is readying his new album Stoicville: The Phoenix for release this fall.
Check out Pain's performance below, what do you think?