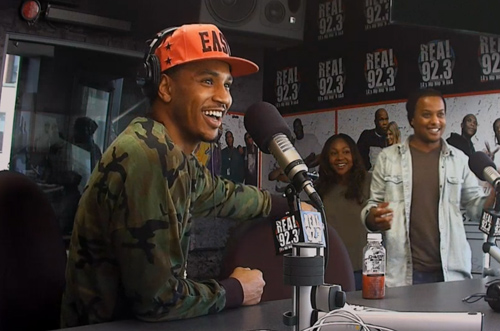 Punk'd really loves to pick on R&B singers it seems.
Following Chris Brown, K. Michelle, and Miguel, R&B heartthrob Trey Songz is the latest star to get setup on BET's revival of the prank show.
Similar to Miguel, radio host Big Boy helped 'punk' Trigga while he visited his morning show on LA's Real 92.3. Trey was asked to sit-in while they helped a guy in need of charity after supposedly losing his ability to walk. He offered some advice — "You put your life on the line, but the blessing within will never be taken away."
Of course, then the guy revealed that he's not actually injured, and only pretending to be on the show to get money.
"Not everybody can be Trey Songz," he said, while Trey looks on horrified.
Eventually Trey is put on the spot when he's asked to reveal if the guy is really faking it. As the guy swears and walks off set, the camera crew jumps out and reveals the trick, while a relieved Trigga laughs in relief.
Watch the full episode, which also features Sanaa Lathan, below: