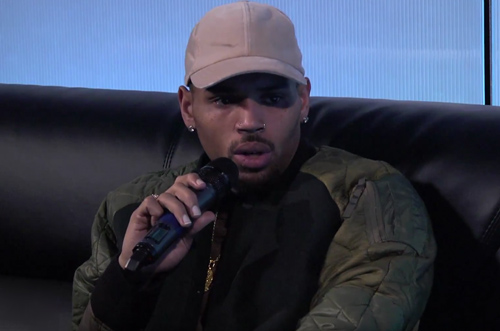 Chris Brown traveled to New York this week on a promo run for his anticipated new album Royalty. The R&B superstar swung by Hot 97 to talk with his friends Nessa and Ebro for two separate interviews.
Sitting down with Nessa he announced the pre-order and official release date (Dec. 18) of Royalty the album,  he spoke about his reaction the first time he learned about his daughter, and maturing as a man. Chris explained how focused he is in being the best dad he can be without listening to the opinions of the public.
"I was insecure about what people thought about me," he said. I was insecure on how my peers treated me. I had to find that sense of calm. Just really look at my life and say none of that matters. What am i going to do to make a diference, and make a change?"
As for his ex-girlfriend Karrueche, he took the high road wishing her much luck and blessings in the future. He also addressed if he wants to get into a relationship again, and what kind of women he would be interested in.
Sitting down with Ebro In The Morning, Breezy continued to expand on similar topics. Check out both interviews below: