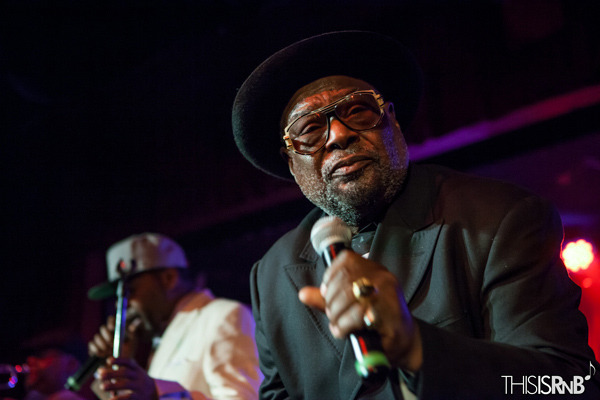 No one under the sun does it better than George Clinton!
We had the pleasure of attending the legendary artists latest concert at B.B. Kings in NYC on Tuesday night, and the show was nothing short of another legendary performance. At 74-years-old George can still hang with the best of them, but the spectacle that is Parliament-Funkadelic haven't lost a beat, and the full band of 15+ rocked the house for well over an hour non-stop.
If you've never attended one of their shows, it's an all out jam session party, with songs lasting 10-15 minutes long, extended musician solos, and energy levels blinking red the entire time.  The packed house never stopped dancing along to favorite after favorite, but of course it was the big classics like "Flash Light," "Aqua Boogie" and "Atomic Dog" that had everyone turned all the way up.
George is a living legend, dressed like an old-school gangster on stage, he had the crowd on his every word and movement, at times jumping up and down, rapping, grinding on a female audience member, and even smoking a joint that came up from the crowd.
Check out our exclusive photo gallery from the show below!
(Photos by Michael Mathis | @mrichardphoto)