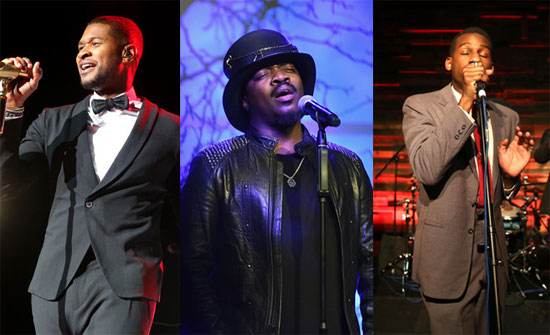 On February 26 at 9 p.m. ET, "Smithsonian Salutes Ray Charles: In Performance at the White House" premieres on PBS stations nationwide and on cable channel, TV One. Scheduled to tape on February 24, the hour long program is a dynamic showcase of performances in honor of the legendary icon.
Performers scheduled to appear include, Usher, Anthony Hamilton, Leon Bridges, Brittany Howard, Andra Day, Yolanda Adams, Jussie Smollett, Demi Lovato and more. Smithsonian Salutes Ray Charles: In Performance at the White House will be the sixteenth "In Performance at the White House" program during President Barack Obama's administration.

Since 1978, the Emmy nominated In Performance at the White House series has embraced virtually every genre of American performance: pop, country, gospel, jazz, theatre and dance among them. The series was created to showcase the rich fabric of American culture in the setting of the nation's most famous home.
Years before he passed away, Ray Charles helped the Smithsonian by lending his voice and a stirring rendition of "America the Beautiful" to an exhibition of national treasures that traveled across the United States. He was himself a living national treasure, and "Ray Charles: The Genius," a current exhibition at the Smithsonian's National Museum of American History recalls his influence through a display of his iconic electronic keyboard, sunglasses, recordings and other personal effects.
With Rickey Minor as executive music director, Smithsonian Salutes Ray Charles: In Performance at the White House is a production of WETA Washington, D.C.; The Grammy Museum; TV One; CoMedia; Mark Krantz Productions; Cappy Productions; and Black and White TV Inc.
On the morning of the concert taping, the First Lady will host a special daytime workshop for students. The First Lady will welcome more than 130 middle school, high school and college students from across the country to take part in an interactive student workshop: "The Musical Legacy of Ray Charles." Beginning at 11:00 a.m. in the State Dining Room, Robert Santelli, Executive Director of The GRAMMY Museum® in Los Angeles, will give participating students an overview of Ray Charles' life, musical legacy and his influence and impact on today's musicians. Featured performers from the evening event will share their experiences and answer student questions about the music and entertainment world.
The concert, including President Obama's remarks, will be available for press via the White House Press Corps pool feed and streamed live on whitehouse.gov/live and pbs.org/whitehouse.
–Words by Raquelle "Rocki" Harris