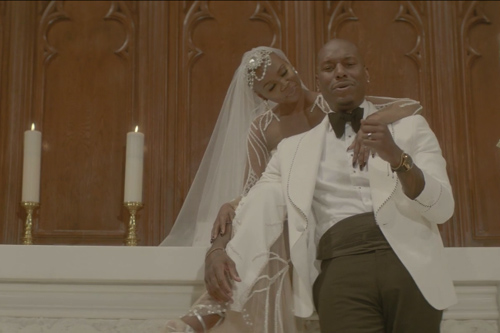 Happy Easter, from Tyrese!
The multi-talented entertainer has premiered his anticipated mini-movie, 'The Black Book,' co-starring singers V. Bozeman and Tank. The music video short film tells a story of lust, struggle, infidelity and lasting love, set to "You Can't Break Me," as well as "Waiting On You" and "Prior To You," off Tyrese's 2015 album Black Rose.
Making his directorial debut, and inspired by the modern romance classic The Notebook, Ty borrowed elements from the film to create his own compelling story of true love. Much like the Nicholas Sparks tale, this film features an elderly couple, who are celebrating their 45th wedding anniversary. Due to his wife's Alzheimer's, an older version of Ty tries threading this story together, going down a sometimes painful memory lane, one filled with arguments, forgiveness and love.
As he tells the story, fans see it unfold on-screen in the form of the aforementioned musical numbers.

"We argued and fought all the time," the senior version of Ty says at one point. Those heated arguments were shown in the first chapter of the film to drive a message home, Ty explained at his private premiere party. "We had to show the resilience and strength of a woman. I think some of the worst relationships, other than physical is the mental and spiritual abuse," he said, "because wounds can heal up but if you tear a woman down and beat her down spiritually, it takes forever to recover from that."
V. Bozeman's connection to those scenes was even stronger. "I had to support it because I had lived it firsthand," she said to an audience member who asked about domestic abuse's role in the film. "And this is what we got out of it. I encourage all women to speak out and spread the word about this piece because it's real. It's very real."
Those moments are jarring, somber and moving, but the film eventually transitions into a love story, capturing reconciliation, growth and forgiveness. That was also crucial for Ty.
"I feel like some of the best movies I've seen have some type of resolve to it," the Fast & Furious star told Billboard during the Q&A session. "We've all experienced trauma and being in dark places, whether it's relationships, family, losing family members. We've all been in that dark place that most of us hope never to have to go back to, but I feel like there should always be something positive, something beautiful. It was just my way of complimenting God. When challenges present themselves, I often say that you will grow through what you go through."
Enjoy The Black Book below!