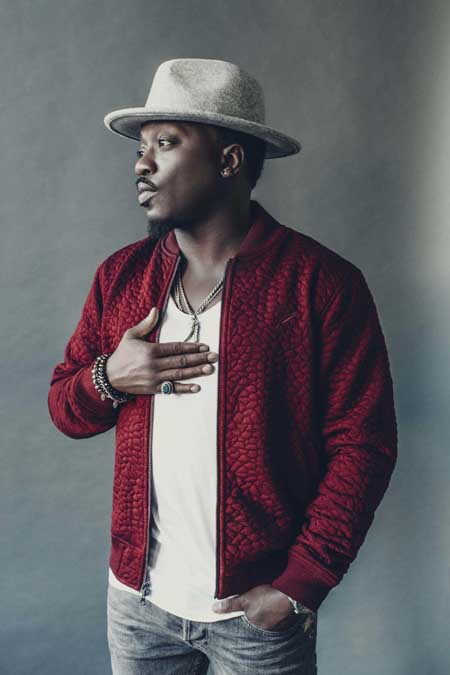 Back in 2003, Anthony Hamilton introduced us to God and good loving when he glided onto the scene with his southern cool debut, Comin' From Where I'm From. Now, in 2016, he's still swaying us with his guttural yet, smooth voice. Epitomizing soul, Hamilton's vocals peel you wide open, serving as a cathartic catalyst for soul searching epiphanies. With indomitable passion, his music has consistently told vivid stories about what is real, right and raw in life and love.
After some serious personal setbacks, Hamilton continues to deliver music filled with joy, regret, surrender and redemption. He's curated a brand that reflects his steady ascension to the mountaintop, refusing to stay in the valley.
Perfectly complemented by his background singers, the Hamiltones, Hamilton has bridged the millennial generation gap with his dope covers of hip-hop hits such as, Drake's "Hotline Bling" and Rae Sremmurd's "Come Get Her." He's pulled in 12 million views alone within the past four months. Flexing multiple talents, Hamilton is also known for his crafty culinary skills, cooking anything ranging from greens to honey dill salmon.
The Grammy winning singer, songwriter and producer recently released his fifth studio album, What I'm Feelin', which is essentially a sanctified panty dropper. Similar to his previous releases, it's a unique synthesis of blues, gospel, jazz and soul. In the midst of prepping for his upcoming tour with Fantasia and chasing around his 3 youngest sons, Hamilton took some time to tell us what he's feelin' about the new album, today's R&B, the Obamas, upcoming projects and his relationship with God.
Check out the exclusive interview below!
On this album, you reunited with some old friends. Mark Batson, who produced "Charlene" and "Comin' From Where I'm From," what made you come back to him for this album? What do you enjoy about working with Mark? Tell me about your chemistry.
Mark gets it musically—we're not just people who work together, do music together, we really are friends. When we go in, we go in. He knows how to bring the best out of me and I know how to take him to that place where he can musically be explosive and incredible. On the music court and off the music court, we have an awesome chemistry and connection. We think and breathe, we hear a lot of the same things. We get it without a whole bunch of conversation. We go in and we just know, we just know … Salaam Remi is another one who gets it and James Poyser.
On "Save Me," you say you want to be born again. How does that translate to your life now? I know you went through the divorce last year, so is that song symbolic of that?
You want to meet that new person that turns your light back on and allows you to feel whole again and to share that happiness. I'm in a great place in spite of what the last couple years were. My kids are happy and it's time for a new life and a new chapter… "Still" is one my favorites. I'm speaking to God, God is speaking to me. The song is saying that God is still in love with us … you gotta have a relationship with God, it surpasses any other relationship.
"Grateful" is a powerful love song. What can you tell me about the inspiration and depth behind that track?
"Grateful" celebrates a woman's love, a woman's touch, and the value she brings to your life. Even though you might go through some things, she can turn that all around and give you somethin' to believe in—always letting you know that happiness is possible.
When I was listening to the album, I thought, "He doesn't sound too upset, he sounds like he's still in love." It sounds like you've come to a place where you're at peace.
Life is beautiful, you gotta love. You have to. It's about choices. Either, you're gonna be happy or you're gonna miserable. I don't want her (ex-wife, Tarsha Hamilton) miserable and I don't wanna be miserable; we have three beautiful kids. We're about to go on tour together, she going to be singing background for Fantasia.
Tell us about recording the album in Nashville. Do you feel like recording in that particular location had an effect on the feeling and the sound of the album?
It kept us away from a lot of interruptions and distractions, like L.A. and New York can bring. Nashville is a music place. It's all about music and cowboy boots. And it allowed us to focus in on, sonically, what was magical. The studios were amazing and my engineer, Bruce Irvine was incredible, he knows how to capture my voice. Sonically, we were able to tap in; the environment has a certain feeling. The time in-between going to work and recording and going to lunch and you meet all these people who love my music already so, let's give 'em a lil bit more of that. Nashville was able to introduce to us that peace we needed.
What was it like performing at the White House for the Obamas?
It was mind blowing. It was such a powerful moment; a historical moment, not just for me, but for my family. When I went to the White House, we all went to the White House; I took the hood to the White House. I also went to Mandela's house. I've been able to enter into two powerful homes of two amazing and powerful black men. This is my third time seeing Michelle Obama, I did a fundraiser at Will and Jada Smith's house for the Obamas and then I met her again with Laura Bush. She told me, "I'ma get you in the White House, your music gets me through the day." When I met Obama, he was like [imitating Obama's voice], "This is a bad man, right here, when Michelle's mad at me, I put on "Float," first, that's a bad song." I'm on the playlist … in the Oval office.
What can the fans expect from you and Fantasia, besides a good ole time? Are there are any surprises on the tour?
Well, we're just now going to start rehearsal and Fantasia has started her rehearsal. The Hamiltones will be with me and we're going to JAM! We're gonna make this a special, incredible night, every night. Whatever the fans want, we got.
Tell us about the Hamiltones. What's your history together?
The Hamiltones are my brothers, we tour together, we've been working together for a long time. We have a respect for each other. Musically, we get it; from hip-hop to the church, we understand each other and we like to have fun with that. Onstage, there are three of us, but we have another Hamiltone who sings with Justin Timberlake, his name is J.K.; he's an honorary Hamiltone.
Your music and albums have always been personal, reflective of you and what you're going through, what do you want fans to know in particular about this album? Something that they haven't read or heard yet.
I want them to figure it out for themselves. We all listen and hear what we hear differently. Share my experience—whatever it is. I'm talking about God, break-ups, make-ups and all that; check it all out.
Do you have a routine or thing that you do whenever you're recording music?
I walk in the booth with my mind and heart open. Sometimes, it's literally what I'm feelin' at the moment and the lyrics just flow. I try to use the vulnerability that we all experience and make magic.
Who is it that you still want to work with?
There's so many people, man, D'Angelo, Kanye, Missy Elliott, Timbaland … I plan to work with everybody who will wanna work with me. I'm excited about just doing music; I'm a very very passionate person, I'm open.
What future projects do you have coming up?
I'm excited about the new chapter in my life and going into entrepreneurship as a producer, as a writer … as an actor. There's a lot of great things happening from food to fashion. It's gonna be a nice time.
What are your thoughts on today's R&B? Any new artists that you're digging?
R&B is alive and thriving. August Alsina is talented, Jeremih, Chris Brown, Jazmine Sullivan, BJ the Chicago Kid. They all bring unique dimensions to R&B. They make the genre stronger.
After all this time in the industry, you've got some longevity. It's nice to see artists evolve. Would you agree that you've evolved?
Thank you, yes, I have evolved a lot and I'm looking forward to continuing to grow as far as God will take me. And just love on my fans, walk with this music, travel with it and make it all beautiful.
–Interview by Raquelle "Rocki" Harris