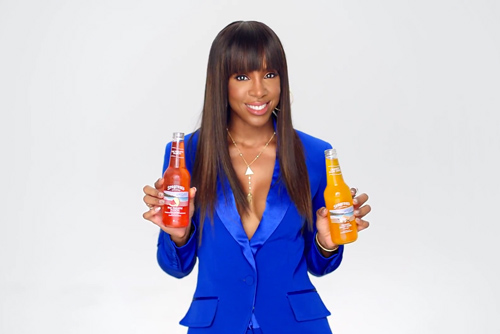 Kelly Rowland is one busy woman. She may be focused on her BET show "Chasing Destiny," but she steps back to the mic with a brand new song called "Gimme Love."
The uptempo two-step track, released in partnership with Seagram's Escapes, finds the R&B diva asking for "a little love," telling her admirer that he needs to make his move before she moves on to something new.
Rowland has teamed up with Seagram's to release two of her own signature flavors: Pink Pineapple Passion and Orange Sassy Swirl. Her ads for the new drinks feature "Gimme Love" as a soundtrack.
"I'm Kelly Rowland and I'm all about keeping it colorful," she says in one clip. "Wherever I am, whatever I'm doing, I'm always looking to put my personal touch on everything I do."
In addition to this new collabo with Seagram's, Kelly has been working on her follow-up album to 2013's Talk a Good Game. "Everything is either ratchet or too much substance," she recently said of her musical direction. "I have to find a middle ground. Right now, it's super hood and another one is like ohm."
Take a listen below.