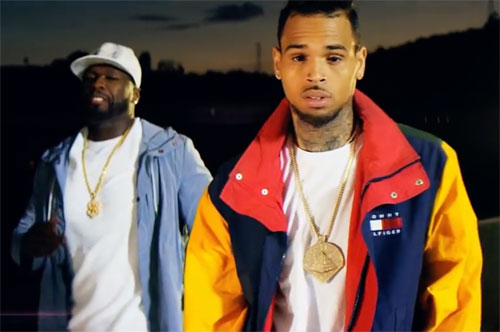 Hot on the heels of his brand new single "Grass Ain't Greener," Chris Brown joins 50 Cent in the video for their early spring collaboration "I'm The Man."
Filmed at a lavish mansion with a sexy infinity pool and stunning views of Los Angeles, the R&B superstar and G-Unit boss are surrounded by gorgeous models, as they go back-and-forth with rhymes and harmonies, delivering lines about "getting money" and being "the man."
Additionally, Chris joins Fif on another new song titled "No Romeo No Juliet." The two trade bars, while Breezy brags that 50 is his OG, and that he's a pimp. The NYC rapper comes back with rhymes about interracial dating and having "it made" like the classic Special Ed song.
"There's no Juliet for no Romeo with no dough," they sing on the hook. "She report to pimpin', now back to trickin'."
Check out the video and song below.