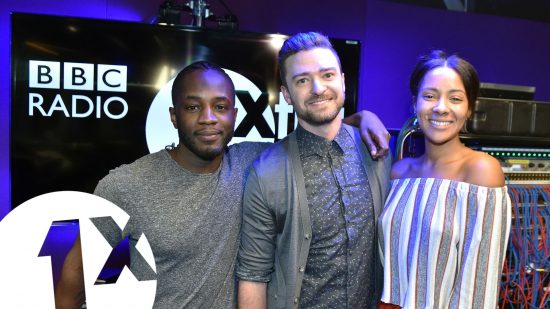 Hot off the release of "CAN'T STOP THE FEELING!" Justin Timberlake has teased a potential collaboration with The Weeknd.
Justin revealed the big news during an interview with BBC Radio 1Xtra, where he also confirmed that the Beauty Behind the Madness singer is working on a new project, which was previously reported here.
"Abel and I have been talking," he said. "We've been talking about doing a collab. He's working on an album. I don't know if I was supposed to say that. Did I just mess up something? He's always in the studio anyway. We've talked about doing something together."
Whether they actually get in and do something for one or both of their next albums is still up in the air, but Justin has already been in the studio with Pharrell and Timbaland, and he's loving the direction the music has been going.
In addition to his own stuff, the singer/actor has written songs for Ariana Grande and Gwen Stefani for the Trolls soundtrack that he's executive producing. While he previously announced that, he's now saying one of those could be a collab.
"There's three or four other great songs that are on the soundtrack that we wrote," he said. "Ariana Grande does one and Gwen does one that I think I'm actually gonna feature on with her. I think it might be a duet."
Check out the interview below.
On Wednesday (May 11), Justin teamed up with his Trolls co-star Anna Kendrick to perform another cut off the soundtrack, an acoustic cover of Cyndi Lauper's "True Colors." "We are Anna and Garfunkle," he joked, before their performance of the track at Cannes 2016.