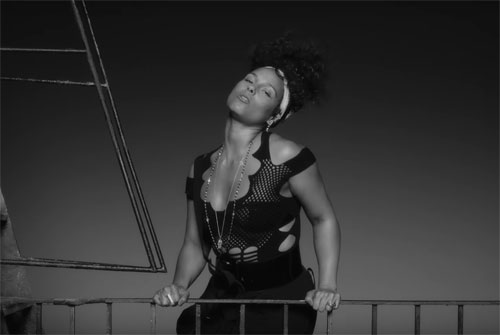 Fresh off her appearances on "SNL" and "The Voice," Alicia Keys delivers the anticipated video for her new single "In Common." She strips things down in the black-and-white clip, which was inspired by the "electric energy" of New York City.
Alicia goes for a more natural look while standing on a fire escape and walking through a set made to resemble the streets of her hometown. She is accompanied by a diverse group of men and women, who are unafraid to showcase their individuality.
"This video is about celebrating our individuality, and how in the brilliance of our uniqueness, the magic of it all is at the core, we are all the same," Keys told The FADER. "We want the same things. We all want to experience love, the freedom to be our truest selves, to love whomever we want and to be accepted and celebrated for all of our nuances and so called imperfections that make us, us."
Her sixth album, the follow-up to 2012's Girl on Fire, is due later this summer, and will feature her new song "Hallelujah," which she debuted on "SNL."
Watch the new video below!